DojoMojo gives you the ability to search upcoming giveaways and apply to join them. This is a great way to participate in campaigns without hosting your own.
In this article and video, we'll cover how to find the best campaigns for your brand without having to aimlessly browse.
Before we start, here are few tips for a fruitful search:
The early bird catches the worm. Don't just apply to campaigns with a lot of partners. Those campaigns appear to be bigger right now, but by being the first partner you can often join campaigns you might not have otherwise been accepted to. The last spots are invariably the most hotly contested and oftentimes go to brands willing to offer significant prizing or who have a great deal of reach. If you don't fall into one of those two buckets be early to join the campaign.
Choose your battles. Be thoughtful about who you apply to partner and apply to the campaigns that seem ideally suited for you and that you also have a good chance of getting into. If a campaign has an average list size of 300,000 and your list is 50,000 it probably is not a good use of your time to write a long application.
Finding the Right Campaigns to Join
1. Head to Explore
In the Explore section, we first see your recommended brands and campaigns. Our algorithm suggests sweepstakes we think you'd be successful in based on your industry and past partners. To view even more campaigns, click CAMPAIGNS on the left menu.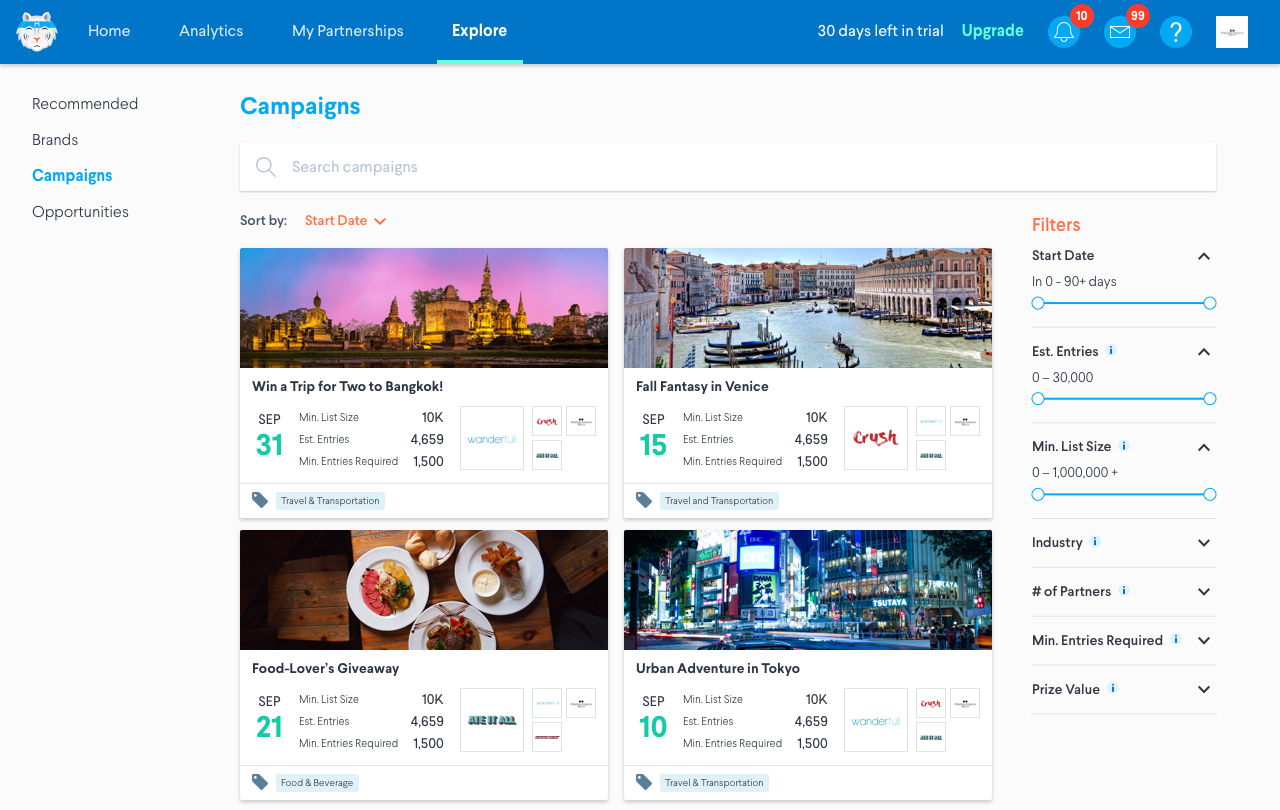 2. Search for Relevant Campaigns
As you can see, there are several pages of campaigns coming up on DojoMojo. Below are some suggestions on how to find the right campaign for your audience.

View by Start Date
The campaigns appear in order of start date but can be ordered in several ways.
Since campaigns launching tomorrow have usually secured all their partners, it's best to push the start date to two or three days away on the slider.
View by Number of Partners
My favorite filter of this Explore section is the # of partners. In our experience, the best giveaways have 5-7 partners. Since you'll want to be the 6th or 7th, slide the maximum partners to 6.
Look for Relevant Industries
Next, we'll filter by Industry. The industry is self-declared by the host and is not necessarily the theme of the giveaway. Choose a few filters that align with your brand and always include media to ensure you're seeing relevant media partners. For example, if you're a fashion and beauty newsletter, you can probably remove sports from your search as it won't be as relevant to your audience demographic.
Evaluate Estimated Entries
Estimated Entries is another way to find campaigns aligned with your brand size. Keep in mind that this is only reflective of the current partners of a giveaway, not the end result.
For example, if my estimated entries are over 3,000 I want to join a giveaway in which the host can drive a similar amount. The same goes for the maximum. If you know your brand drives less than 1,000 entries, then a giveaway currently estimated at receiving 20K entries isn't likely to accept you as a partner.
Use Keywords
You can also search by keywords in the title like - entrepreneur, mom, or getaway to narrow the choices down farther, but keep in mind the search only pulls from the giveaway's title.
2. Finalize Your Selections
Once you've narrowed down your search to a couple pages, it's time to do some browsing.
Click on a campaign to see who the current partners are, the campaign details, and even preview the landing page. Like what you see?
3. Apply to Join the Campaign as a Partner
Submit an application with important details about your brand, audience, and engagement. We'll send you a message once the Host responds to let you know if you're a fit.
Have patience and apply to a few campaigns. It may take up to 10 applications to find the best fit. Always be transparent with the host, and state your promotion capabilities in your application.