If you're new to DojoMojo, applying to join a campaign is a great way to step into the giveaway world and start growing your audience.
Once you've identified some sweepstakes that you'd like to apply to, it's time to let the Host brand know you want to join the party!
See: Explore Campaigns: Find a Campaign to Join
A few tips to keep in mind:
Treat it like Dodgeball. Hosts are evaluating Partner applications and often times receive quite a few applications for popular campaigns. Do everything you can to stand out. Look the part – make sure your numbers (list size, et all) are updated so when they review your account you're putting your best foot forward. Always pair your application with a message explaining why you are the absolute best partner they could ask for. Emphasize the intangibles – if you're easy to work with and willing to go the extra mile to succeed, you may win out over someone who simply brings a larger list size to the table.
Bring the pot-roast. If you have a list size smaller than most of the partners, pair your application with a compelling prize or something else to increase chances of acceptance. There is more to bring to the table than just a large email list and it is important you emphasize that in your communications with the host.
Choose your battles. Be thoughtful about who you apply to partner and apply to the campaigns that seem ideally suited for you and that you also have a good chance of getting into. If a campaign has average list size of 300,000 and your list is 50,000 it probably is not a good use of your time to write a long application.
1. Start your Application from the Campaign Profile
From Explore, click on the campaign you'd like to apply to.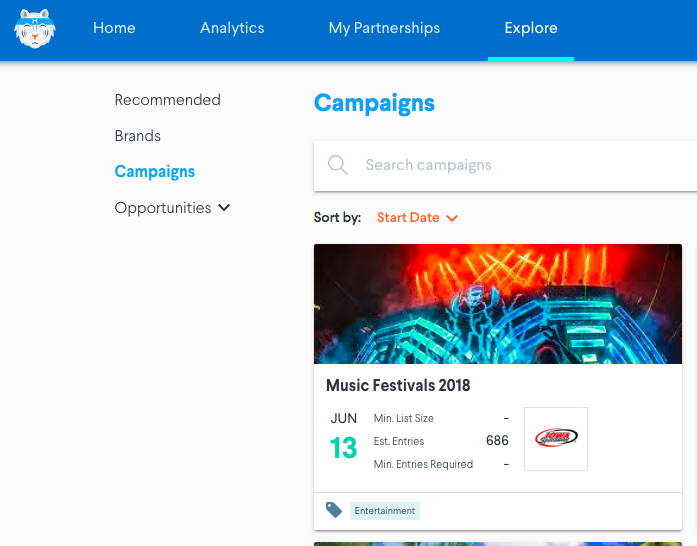 This will open the Campaign's Profile, where you can see:
When the sweepstakes is expected to launch
What Partners have joined so far - who you'd be working with
Prizing details
How many entries you can expect to add to your list from this sweepstakes.
A preview of the landing page (though note these are usually a work in progress!)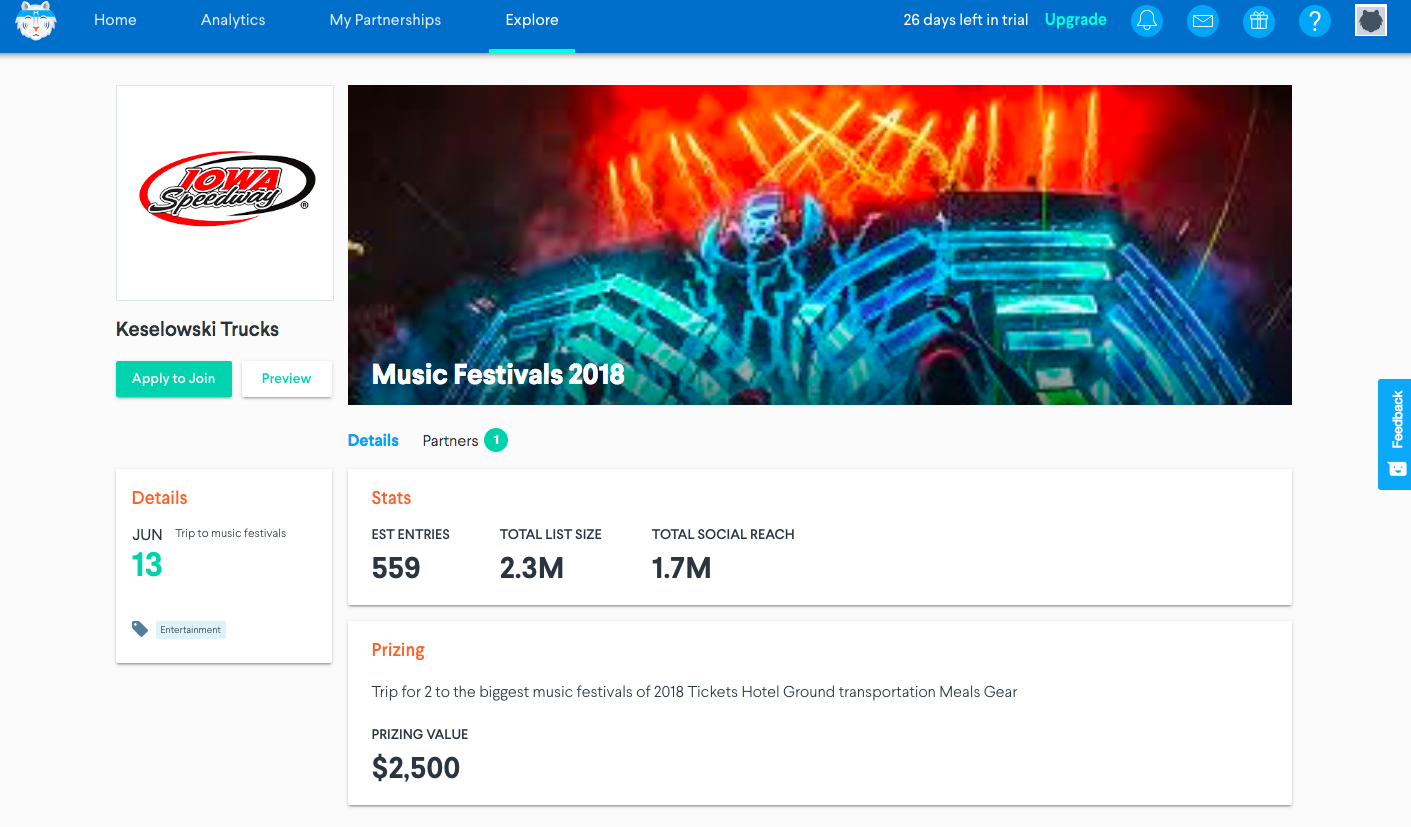 If the prize is exciting to your audience, you think the Partners are folks your readers and customers would like to hear from and you'd like to join the campaign, click Apply to Join to tell the Host brand more about why you'd be a good fit.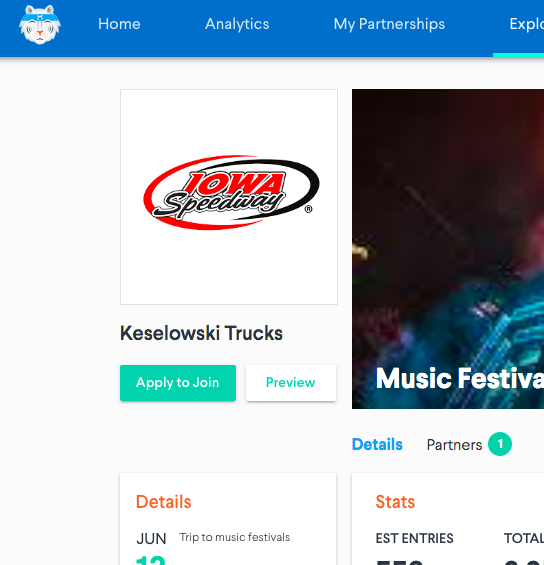 2. Share info about your Brand with the Host
You'll be asked to share some info about your brand so the Host can evaluate if you'd be a good fit. We gather:
Your list size - how many people in your audience can we expect will learn about and enter the campaign?

Your Partner rating (if applicable) - have past Hosts rated you as great to work with? (We'll ask you to rate your Host too!)

Expected Entries - how many entries can the Host expect from you? This is generally 1% of list size or based on previous campaign performance.

Social Reach - how many social media followers will see this sweepstakes if you share it?
Be sure to add a custom note! Let the Host know what makes you the perfect partner with a personalized and friendly note.

3. Let the Host know what you can commit to
Give the Host a sense of what you can provide for prizing and when you can promote the sweepstakes.
This information will be sent to the Host and used as a basis for your discussion with them around what you'll contribute for prizing and how you'll share the sweepstakes with your audience. Once you've finalized these with the Host, the Host will input your commitments into a template and generate a Partnership Agreement.
How much of your audience you expect to enter the sweepstakes. (Not sure? We suggest 1% of your list size).
Optional: What dates you'd be able to promote the campaign
What you're willing to contribute for prizing (this can be finalized later). It's okay to not be 100% sure, or to suggest a few ideas.
The Host may reach out with questions or to discuss specifics before accepting your application.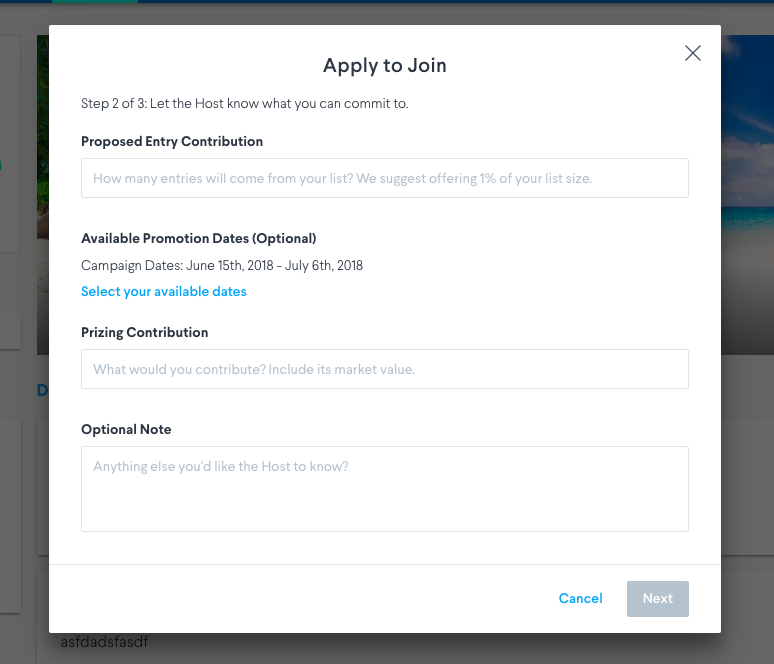 4. Optional: Add your Legal Details
If you haven't added it to DojoMojo yet, you'll also be asked to provide info about your company to populate the agreement:
Your company's legal name
Your company's entity type - corporation, LLC, etc
Your company's legal address
Don't have this handy? That's okay, you can add it later.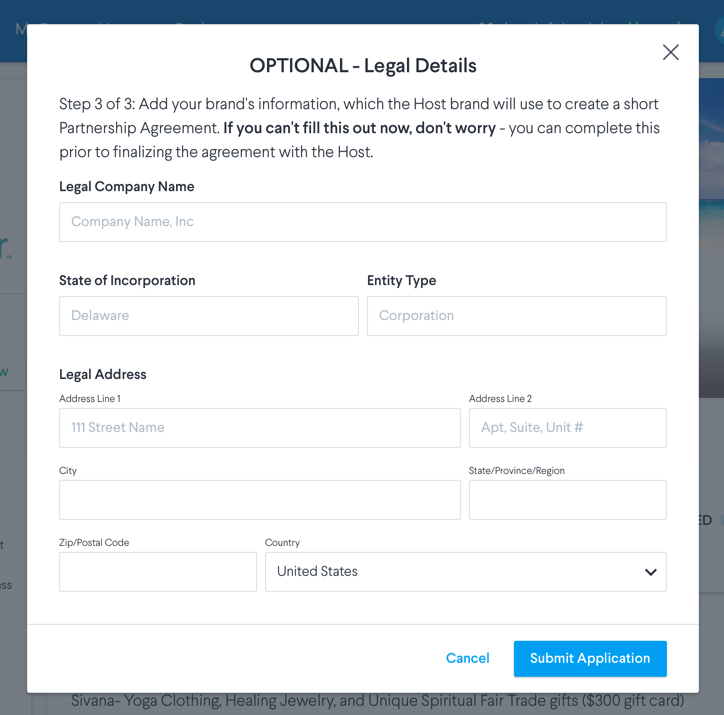 5. Send your Application
Click Submit Application to finalize and send to the Host.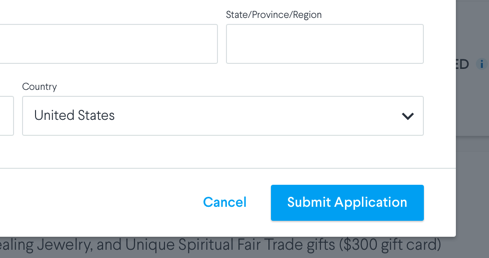 6. View Status and Wait for a Response
Once you've applied to join a campaign, you can view the status of your application in your inbox. Navigate to Messaging and click the Sent Applications tab to view the status of your applications.

As soon as we hear from the Host, we'll let you know if they've accepted or declined your invitation.
Once you've been accepted, it's time to Review and Sign your Partnership Agreement and get started as a Partner!