Why Integrate DojoMojo and Stripe?
This Stripe integration allows DojoMojo to see scoring for potential partners based on the probability for transactions, which will allow us to give you advanced analytics and insight into which specific campaigns and partnerships drive the most value for your brand.
With this integration, we can:
Give you data-driven guidance to choose the right brands to work with as well as the tools to make those partnerships as profitable as possible

Empower you to predict which potential partners have audiences that will convert the best for your brand

Help you track your conversion data - there will be no need to create UTM-tagged tracking links to push data into MailChimp and Google Analytics, and from there create reports to find hidden conversion data
Through this conversion data, you'll gain deeper insight into how to increase your ROI on future sweepstakes and partnership opportunities on our platform.
Integration Instructions
To activate the integration, follow these steps. A video can be found here.
1) Click your logo in the upper right corner of the screen and select Manage Brand from the dropdown menu.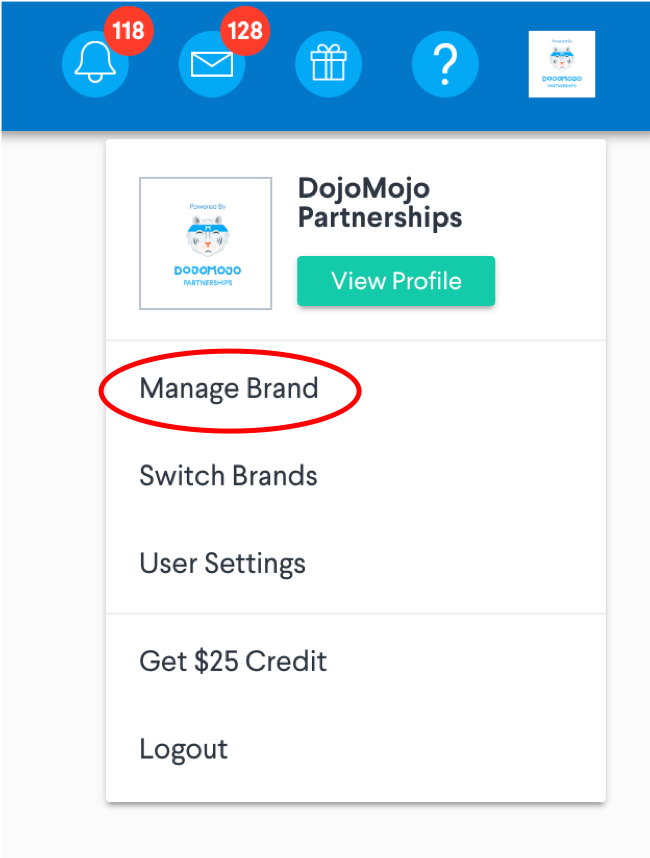 2) Select Data Integrations

3) Select Stripe logo

4) You'll be taken to a Stripe page with the DojoMojo logo. Follow the prompts and sign in with your Stripe credentials.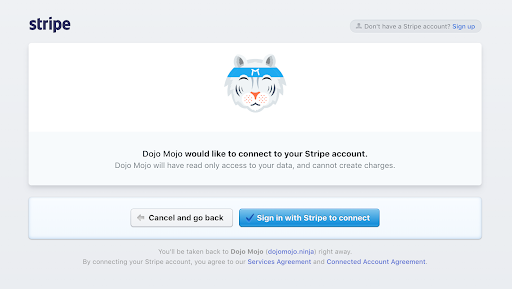 5) Approve the integration from your brand's Stripe account.
6) When you return back to the Data Integrations screen, you'll see the Stripe logo with a check. This means the integration is active.

FAQs
Will this Stripe integration hurt my site's performance or loading time?
DojoMojo's integration with Stripe has no effect on your website's performance because it connects directly with Stripe to collect conversion data. For the end user on the website, this integration adds no elements to the page and therefore does not increase loading time.

How does it work?
With this integration, we can cross reference conversions in your Stripe account with data across the DojoMojo platform to extract metadata that can be used to deliver powerful insights. At a granular level, we can look at which campaigns of yours a particular customer entered prior to you converting them into a customer. Furthermore, because we track which partner drives each entry, we can identify the source brand for each lead you convert.