Pro Tip: Before you dive deep into SMS Marketing on DojoMojo, check out our Mobile Acquisition Pre-Launch Checklist to prepare all the information and assets you need to kick off your mobile acquisition efforts.
In this article, we'll cover:
Why use sweepstakes to grow your mobile audience

How to set up and customize your post-entry form and welcome text

Why Use a Sweepstakes Contest to Acquire Mobile Subscribers?
Text marketing is one of the most effective mobile marketing strategies out there. Yet, businesses are often turned off by SMS marketing due to the bevy of compliance requirements and the daunting task of creating a new list of opt-ins from scratch. If you're starting from ground zero, it can take months before there are enough mobile subscribers to make a significant difference in sales.
This is where you might want to consider sweepstakes. It's always easier to sell to an existing customer than to go out and find new ones–one place to build up your SMS subscribers is your current email audience. A sweepstake exclusively for your business–a Solo Sweepstakes–not only engages and nurtures your existing email contacts, but you can also use it as a way to turn them towards your new marketing channel.
Or perhaps you're ready to find completely new prospects. A Partnership Sweepstakes is here to do just that. Via Partnership Sweepstakes, you're pairing with business collaborators and others who can introduce your brand to new contacts. At the same time, extend your reach and simultaneously capture opt-ins for your newly created SMS Marketing program.
Enable Text Marketing Opt-Ins on Your DojoMojo Sweepstakes

Set SMS Marketing As Your Conversion Action
On DojoMojo, you can begin to acquire mobile subscribers by hosting your own sweepstakes or joining another brand's sweepstakes as a partner and choosing the SMS Marketing as your Post-Entry Conversion Action.
Note: you'll need to be on our Essential or Premium plan to enable the SMS Marketing Suite and features. Then, choose an SMS Marketing plan that best suits your audience size and budget. See our SMS Marketing Payment Plans for more information.
Hosting a Sweepstakes
1) Create your sweepstakes campaign! You can choose to host your own giveaway–solo sweepstakes– or find and partner up with other brands to run a partnership sweepstakes.
2) Once you've created your campaign, access your Campaign Dashboard. Go to the Post Entry Actions tab.

3) Select SMS Marketing as your Conversion Action.

Joining as a Partner in a Partnership Sweepstakes
1) Find and discover sweepstakes that are accepting applications.
2) Once you're confirmed as a partner, access your Campaign Dashboard. Go to the Post Entry Actions tab.
3) Using Split Traffic, request a portion of the sweepstakes traffic from the host.
3) While you wait for the host to confirm your request, select SMS Marketing as your Conversion Action.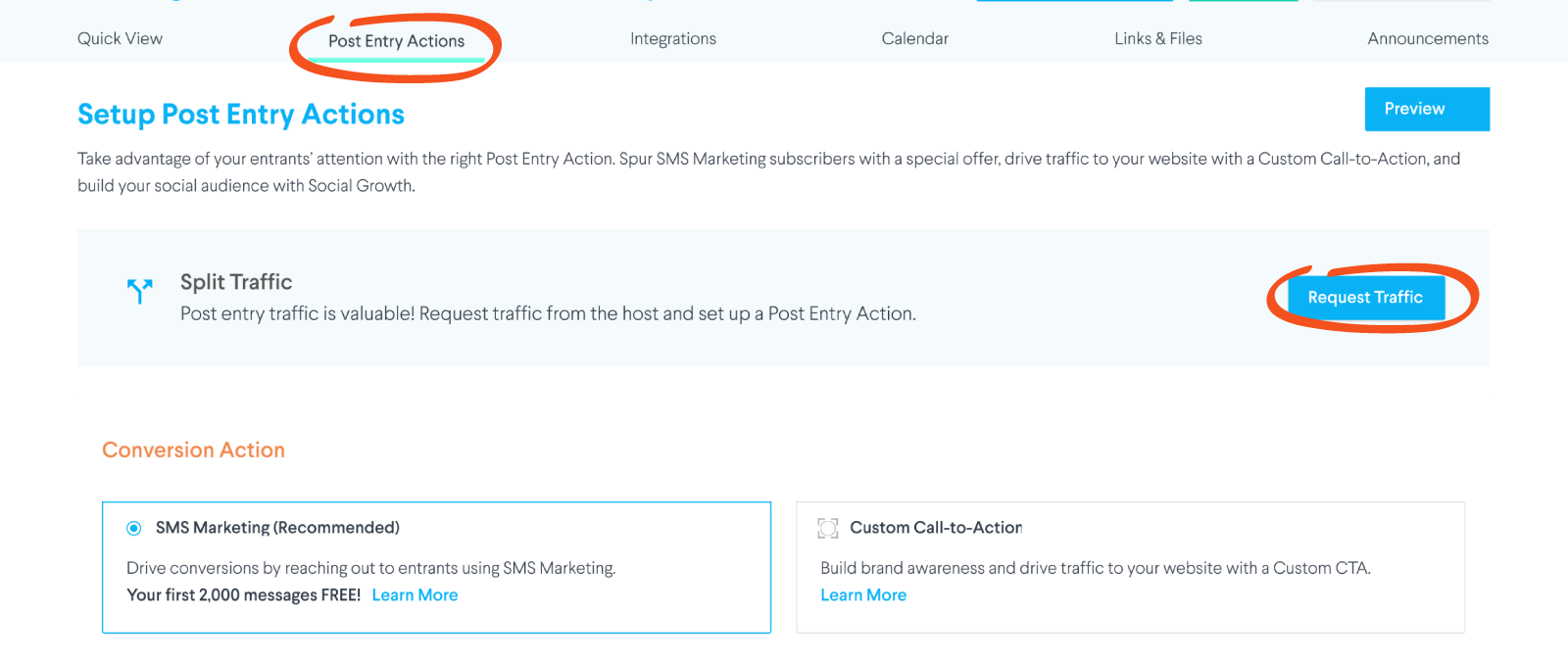 Build and Customize Your Post Entry Form
First, fill out the blank fields to create "Your Post Entry Form."
As you add in your information, you'll see a real-time preview of your form!
Your Post Entry Form will include the following:
Form header

, which appears at the top of the pop-up form.

(Optional) Hero image

so that you can include a banner ad to promote your product, brand, or special offer. You may also link the image to a URL, but remember...leading your contacts to another destination may distract them from signing up for your contact list!

A description

to outline the benefits of subscribing to your SMS marketing program, and to provide information about your welcome offer (if applicable). For compliance reasons, the description must be concise.

Compelling CTA (button)

to prompt entrants to join your list.
Legal requirements
For compliance laws and regulations, mandatory legal terms and conditions are included in the form. This information is mandatory and cannot be edited.
Next, craft your welcome text message.
In this section, you will build your welcome text message. Your welcome message is the initial text message delivered to newcomers who join your mobile marketing list. Just like the form builder, you'll see an example preview of how your text will appear.
Your welcome message may include the following:
Concise, yet impactful, message to welcome new subscribers

. Remember, this is your time to make a great first impression for prospective customers and newcomers to your mobile contact list!

Optional custom fields such as a

link

or

coupon code

to further customize your message.

Links

are automatically shortened to minimize the number of characters used in your text message.

Coupon codes

are great for more precise tracking and conversion attribution. For the best attribution tracking and management, it's highly recommended that a unique coupon code is used for each sweepstakes.
Legal requirements
By law, you are required to inform first-time subscribers
The purpose of your communication and why you are contacting them

Clear instructions on how to opt-out of your contact list
As such, DojoMojo appends the following mandatory compliance language to each of your welcome text messages:
"Msg&data rates may apply. Msg frequency is recurring. Reply HELP for help, STOP to cancel" and manage replies with these keywords."
Lastly, publish your message!
Don't forget to publish your post entry form and your welcome text! Your messages will begin sending to subscribers once your sweepstakes is live.
Editing Your Post Entry Form and Welcome Message
Before Launching Your Sweepstakes
You may continue to edit your post entry form and welcome message until you launch your sweepstakes.
After Your Sweepstakes Is Live
Once your sweepstakes campaign is live, you will not be able to update your welcome text message content or post-entry form. However, you may deactivate your post entry form, which will disable your text message from sending.
To deactivate your post entry form, change your Conversion Action from "SMS Marketing" to "Thank You Only."