Links to your checkout page, website, and dedicated landing pages are very effective ways of delivering a seamless experience between your message and call-to-action. However, including a long URL with a string of UTM parameters can be unsightly, a poor user experience, and above all, a potential indicator for spam.
Why Shorten Links in SMS Marketing
In DojoMojo's message editor, you can easily abbreviate all of your URLs to a shorter, branded link. We shorten links for free and all links following the following format:
https://[yourdomain].djmj.io/xxxxxxxx
You'll want to shorten your links in your text for a few reasons. Short links will:
Save you valuable characters in your message – remember, you only have 160 characters to work with for a standard SMS message!

Improve engagement as it appears less like spam

Allow DojoMojo to track and report your clicks and purchases. Even if your original URL is shorter than the generated shortened link, using DojoMojo's link service will ensure that our platform accurately tracks and reports your campaign performance.
Shorten Links Directly in DojoMojo
Insert the original link into DojoMojo's message editor, and avoid inserting links that have already been shortened by third-party services, such as Bitly, Tiny URL, or Rebrandly.
Using links shortened by third-party services will:
Hurt deliverability as it Increases your chances of being filtered as spam by carriers
Recipients can't see where generic bit.ly links will lead them, allowing spammers to conceal cohesive or malicious links. With that, carriers may become suspicious when they see repeated texts with the same link or generic links going out to large groups of people.
DojoMojo's link service will shorten your link and also maintain a custom domain in the vanity URL. Using unique domains in your links will improve your deliverability, trustworthiness, and overall deliverability.
Interrupt your reporting and tracking in DojoMojo
Additionally, DojoMojo will not be able to accurately track and report your conversions for links pre-shortened by third-party services. To maintain attribution integrity for your SMS marketing campaigns, copy and paste the original link directly in the message builder.
Adding and shortening links in your messages
Find and copy your original, full link. Your link may include UTM parameters for tracking via Google Analytics or a similar service. Here's an example of an original link to copy and paste into your text:
https://www.dojomojo.com/home?utm_source=dojomojo&utm_medium=text&utm_campaign=spring_sale
Next, in the text editor, place the cursor where you want to insert the link in your message.

Either, find the 🔗 icon in the message editor menu, and paste the original link into the field. Hit Shorten & Track, and your shortened link will be added to your message.

Or, paste the URL directly in the text editor. Our platform will recognize the URL and open a window with the option to shorten and track it. Hit Shorten It.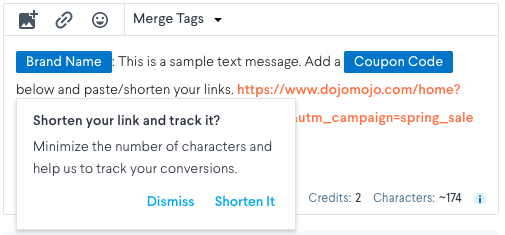 The shortened link will generate automatically.