A signup form, pop-up, lightbox, signup unit, modal, opt-in form -- No matter what you call it, it's a form that appears on websites, typically on top of the website page content, and it comes in all shapes and sizes, such overlay modals, banners, or slide-in boxes, to name a few.
Pop-up forms have many uses, including promoting specific content, highlighting call-to-actions, and are a prevalent marketing tactic for capturing contact information and marketing permissions. They are particularly good at leveraging your website traffic to convert visitors into SMS and email subscribers.
While familiar to both marketers and users, you might be wondering if pop-up forms even work. Short answer: Yes! Signup forms do work, which is why so many marketers use them! Many marketers rely on forms for their:
Performance
Pop-up forms are one of the best tools for improving conversion rates. A study by Sumo showed that 10% of the highest-performing pop-ups have over 9% average conversion rates. Wouldn't you want that for yourself?
Cost-Effectiveness
You would be hard-pressed to find another method that captures leads and converts as effortlessly and efficiently as pop-ups. Other inbound strategies, such as sweepstakes, trade shows, and digital events, require lots of upfront investment, planning time, and effort. With a signup form on your site, you can set it up in just a few minutes and let it run.
Flexibility
Pop-up forms allow you to be creative and flexible to test different strategies that yield the best conversion rates. Since signup forms are relatively straightforward to design and install, you can iterate and test various offers, timing, and CTAs that work best for your site experience.
Optimize Your Signup Form Performance
Pop-ups are a great addition to the various ways you're acquiring new subscribers, especially if you're trying to grow your mobile marketing list. You've got sweepstakes and landing pages to turn email contacts into SMS subscribers, opt-in options on your checkout page, and now a pop-up form can help you capture and convert inbound website visitors into qualified email and SMS subscribers.
Be concise
With the volume of ads, emails, and promotions consumers receive each day, consumers have very limited attention–straightforward, concise CTAs will cut through the noise the best. In your pop-up, keep it simple by limiting the number of fields and interactions required to assist conversions.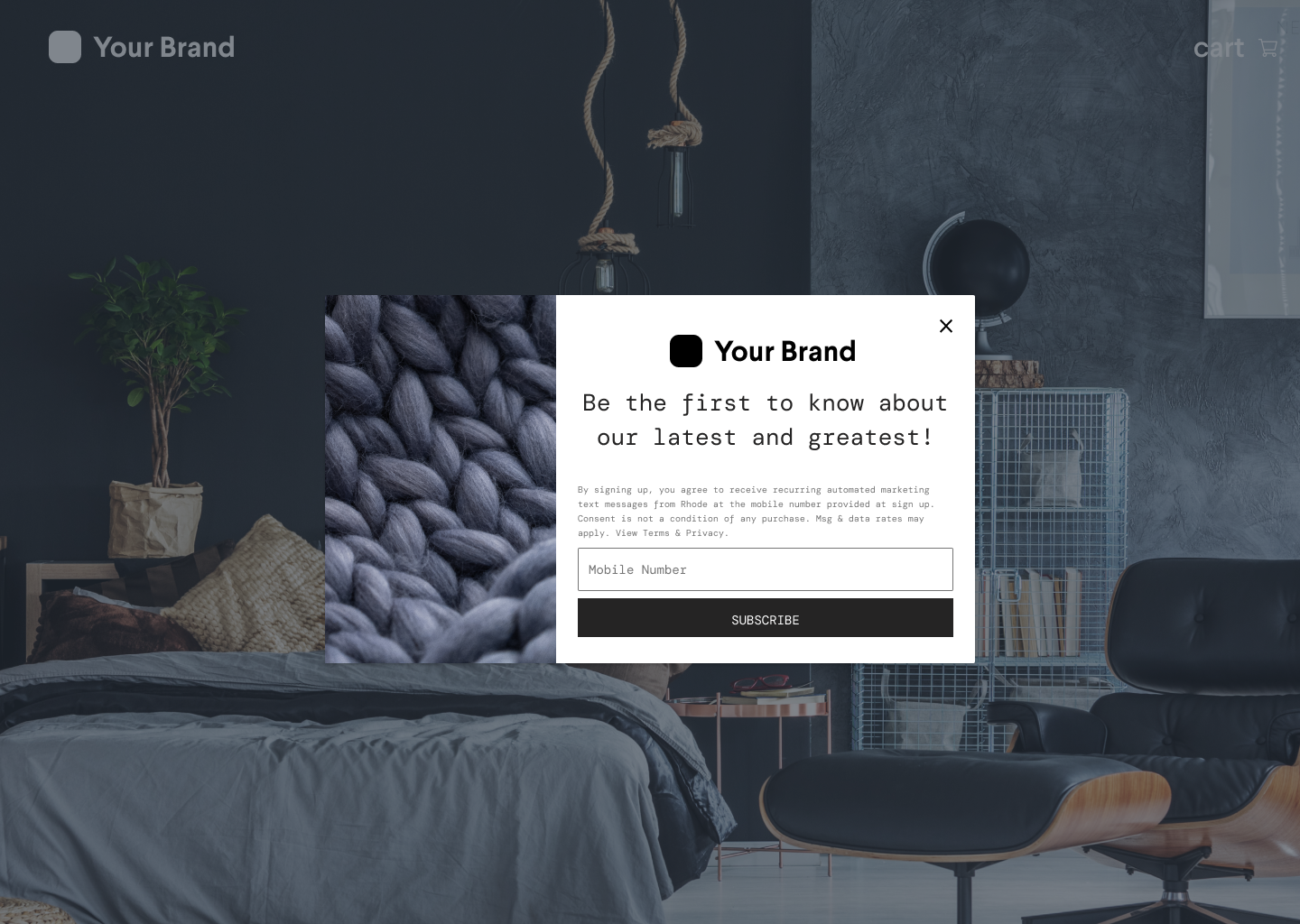 Offer something relevant and valuable
Many marketers are wary about using pop-ups since they can interrupt and get in the way of a user's website experience. This is only problematic and a bad user experience if your pop-up shows information or an offer that isn't valuable to the visitor or is entirely unrelated to the page they're on.
In your form, be sure to offer something that you know your site visitors will want and are willing to exchange their personal information for it. If your objective is to grow your SMS marketing list, you can incentivize subscribers by making your offer available exclusively to SMS subscribers.
Example: If a shopper is visiting your website for the very first time, drop a welcome offer exclusive to first-time customers and make it available only via text messages. Don't forget to include your mandatory compliance disclaimer!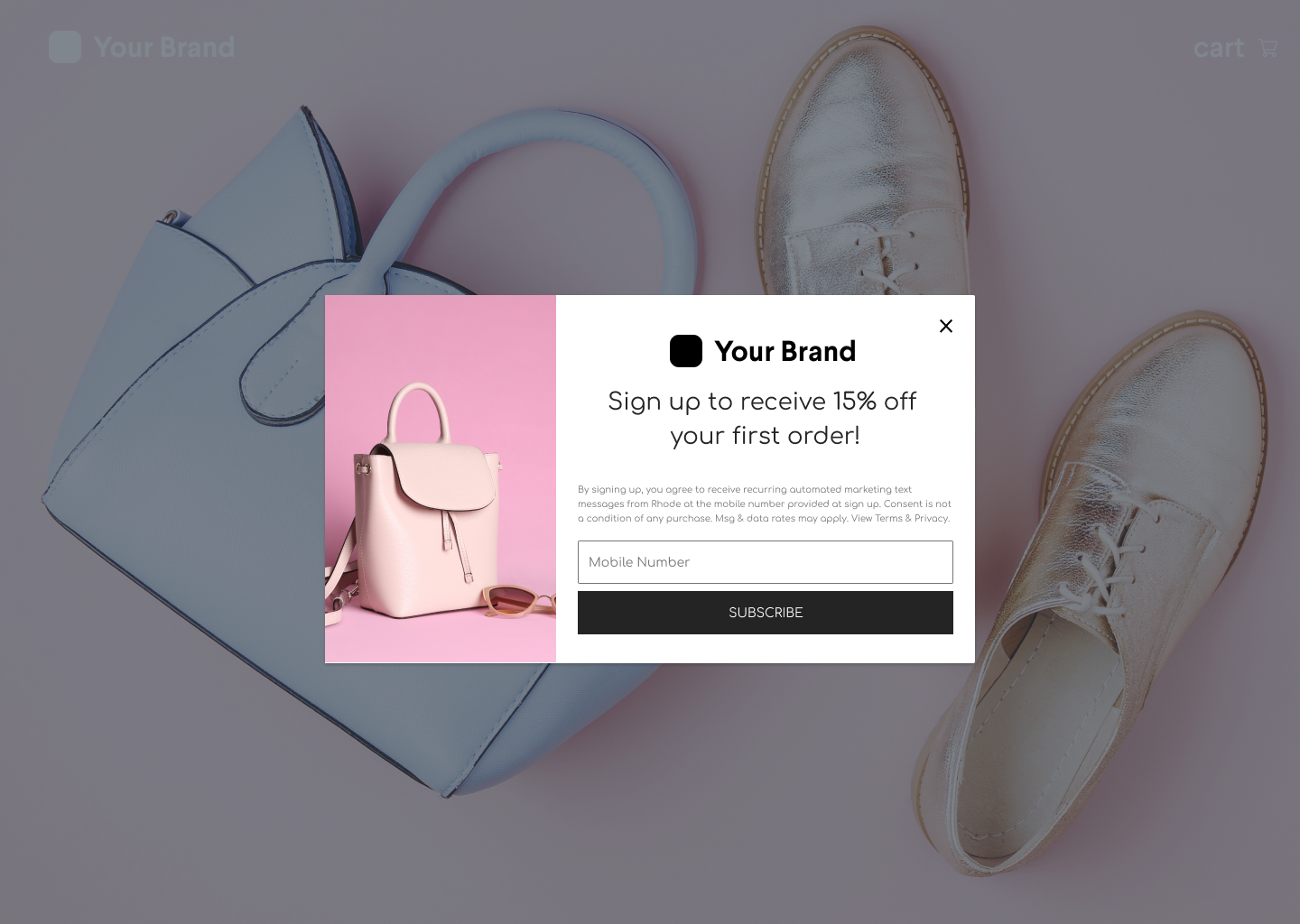 Make it multi-step
While form design principles often say that shorter forms have less friction and may convert more, you also restrict the amount of information you can collect from individuals. There are times when you might want to collect more data to personalize and optimize future marketing messages. This is especially true for a personal channel like SMS marketing, where highly individualized, relevant content performs the best.
In those instances, a multi-step form allows you to break down your questions across multiple pages. Your pop-up appears less intimidating, and consumers would be more willing to volunteer their information and permission to subscribe to your marketing lists.
Example: If you're looking to grow your email and SMS marketing audiences, capture the email field on one step and the recipient's phone number on the other. In the chance that a website visitor doesn't fully complete their submission, a multi-step form would still allow you to capture part of their information.

Final words, remember to deliver immediate value upon signup
Never forget to follow-through on the outcome and reward after submission. Remember, your pop-up form is just one of the many ways to nurture and convert subscribers into loyal customers. Once they submit their details, deliver your promotion, special offer, or content you promised through an email or text message.