You can use the Campaigns tab in the DojoMojo SMS Marketing platform to create and send one-time messages or a sequence of messages to your subscribers. Campaigns are useful to let your subscribers know about something specific, like an upcoming sale, new product launch, or when an item is back in stock. Once campaigns are created, you can send your messages right away or schedule them for a specific date and time.
You can view the following sections in this article to learn more:
What's the difference between Campaigns and Automations?
Campaigns: A single message or sequence of messages sent to your subscribers. Use campaign messages to keep your subscribers engaged and drive revenue by sharing your latest updates or to promote products and upcoming sales.
Automations: A message or sequence of messages based on subscriber behavior (e.g. abandoned cart). For more, check out Automations.
Set up a Campaign
Navigate to SMS Marketing > Campaigns and click the Create New button.

Create New SMS Campaign opens.

Enter a Campaign Name. Make it unique memorable so it's easy to reference later. Note that subscribers can't see the name of the campaign.
Select the Segment drop-down list to define who will receive this message. By default, all subscribers are selected.
(Optional) Edit the Safe Send setting for this campaign. Safe Send prevents subscribers who've recently received a text message from receiving another too quickly.

Compose your message
On to the fun stuff: crafting your campaign message! As you write your message in the Message box, a preview updates in real-time.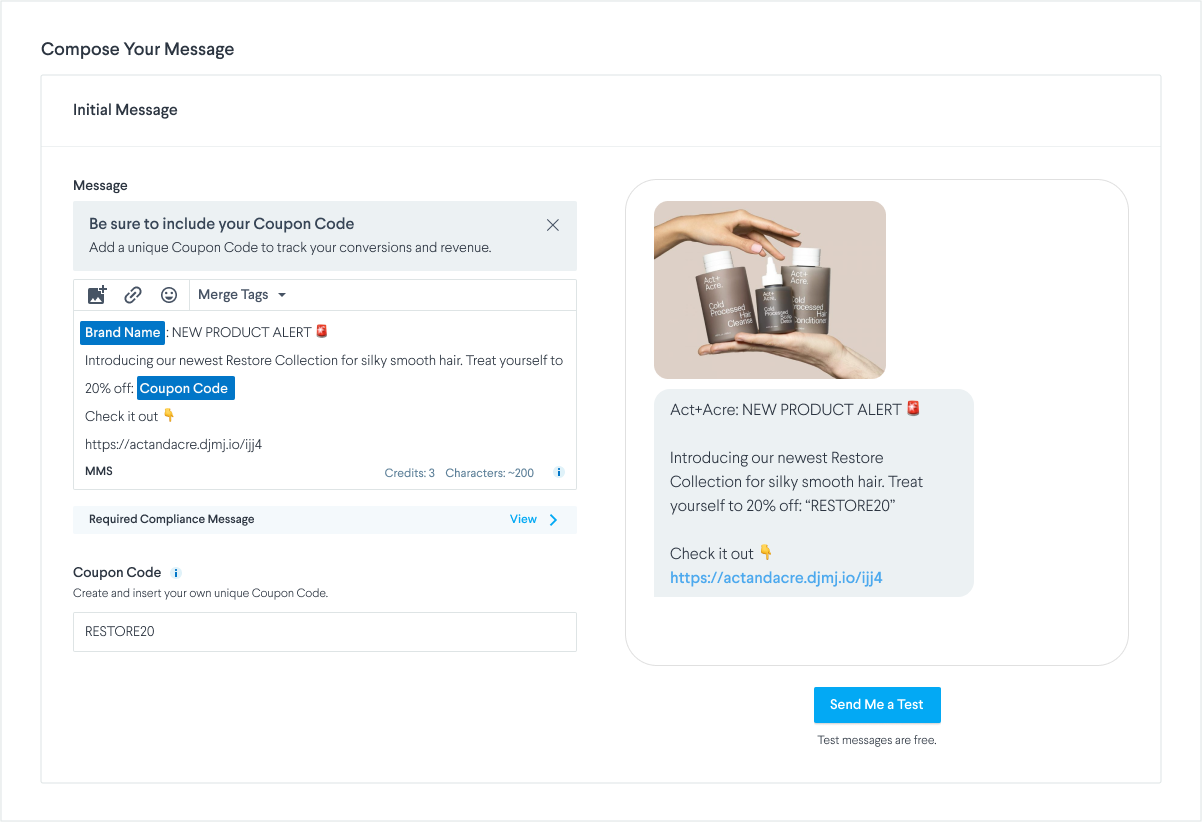 Compose your text in the Message box.

As you write your message, note the Credits and Characters count will update in real-time. For more on how credits work, check out Text Message Blocks.


Add a photo or gif that appears at the top of your message. You can use PNG, JPG, or GIF files up to 450 KB. Upload files from your computer or select from our library.
Add a URL that will be automatically shortened. Before using the shortener tool in the Message box, the original link can include Google Analytics tracking.
Add an Emoji. You can include more than one, but remember that using emojis increases the number of credits used per message.
Add Merge Tags to include custom, personalized information tailored to each recipient (e.g. Name or City).
Add a Coupon Code. Make sure the Coupon Code merge tag is included in the Message box. Then, write the code into the Coupon Code field below the Message box.

(Optional) Click Send Me a Test under the preview, enter your personal cell number, and click Send Test.
(Optional) Add a follow-up message
Turn your one-time message into a sequence or drip that triggers based on how subscribers interact with your messages.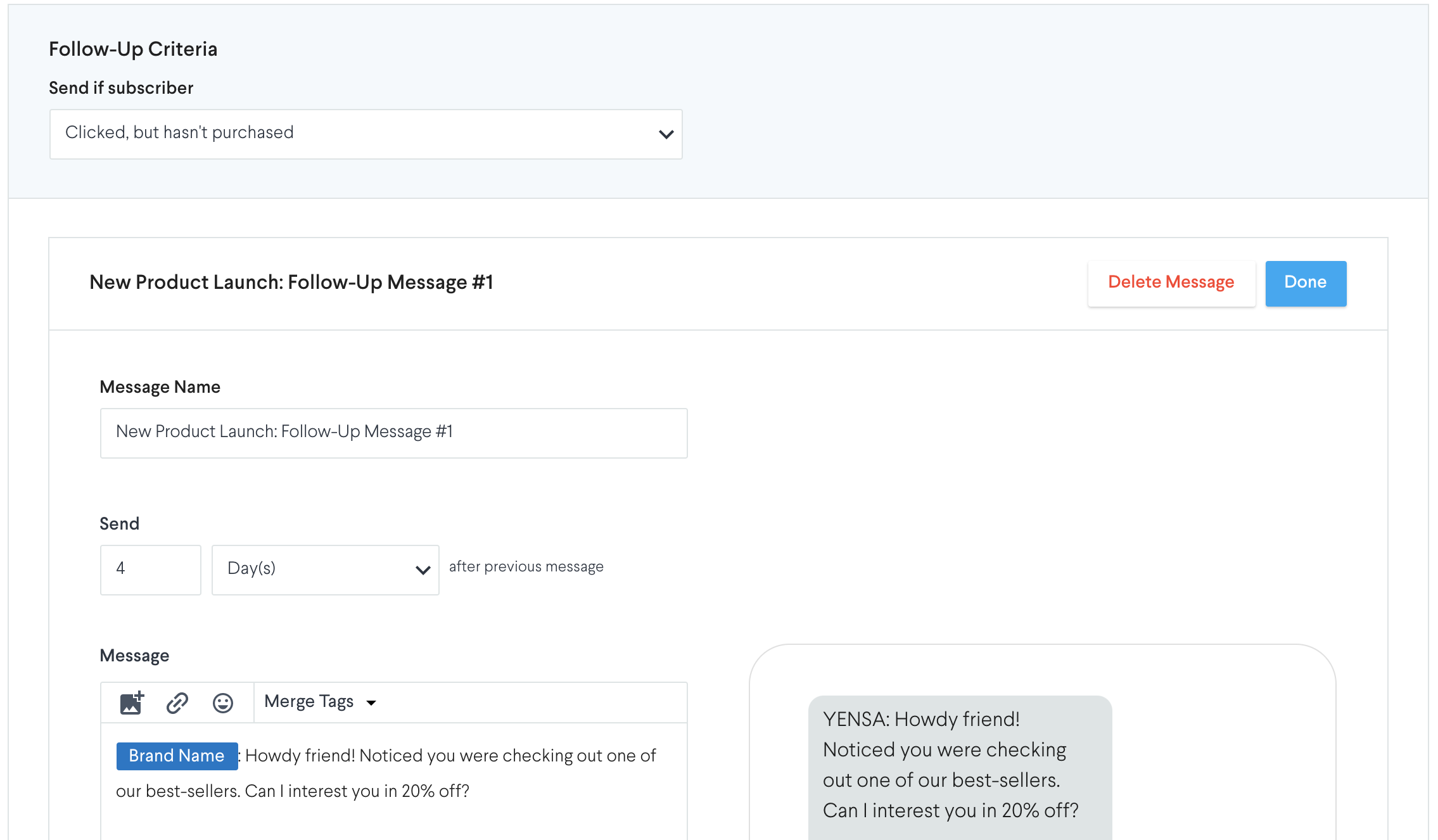 Click the Add A Follow-Up Message under your original campaign message.
Define your Follow-Up Criteria. Click the Send if subscriber dropdown to select the trigger condition for this follow-up message. Conditions are based on subscriber actions, such as clicking with your previous campaign message or making a purchase.
Add a Message Name and choose how many days/hours/minutes after the previous message you'd like this follow-up to go out.
Compose your Message.
Review and send your Campaign
Once you've completed composing your message(s) and you sent yourself a Test, you can either save the campaign as a draft by selecting Save & Exit or select Review Before Sending and choose one of the following options:
Schedule: Send this campaign at a later time. By default, messages are scheduled in the EST time zone. Once scheduled, your campaign is placed in a send queue. You can pause and edit the campaign before it's sent to your subscribers.
Send Now: Send this campaign immediately.
Once your campaign messages are created, you can find them under the Campaigns section of your SMS Marketing dashboard. You will be able to edit, delete or duplicate messages, as well as review performance metrics.