What's a Dedicated Email?
A Dedicated Email is an email that simply promotes your giveaway campaign to your email distribution list.
In your Partnership Agreement, you probably agreed to send one of these to your list on a particular date.
A Dedicated Email generally has two components:
1) A large image or Creative Asset the Host brand has provided. One of these will always be an email image, though you may be given additional images for sharing and promoting the campaign on Instagram, Twitter, Facebook or Pinterest if you've agreed to promote on these channels.
2) An embedded link and button (Call to Action or CTA) that uses the correct Tracking Link to send entrants to the sweepstakes.
It may or may not contain other copy, but generally, the focus of this email is just to promote the sweepstakes.
Here's a sample Creative Asset for an email promoting the sweepstakes: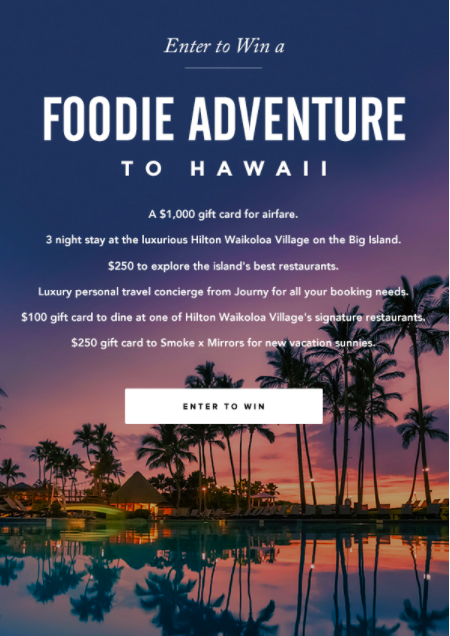 A sample Creative Asset for an email promoting the sweepstakes.
Create a Dedicated Email
To create a Dedicated email you'll add a Tracking Link to a Creative Asset and embed it in an email.
1. Locate the Creative Asset
Open the Campaign Dashboard and look for the Links & Files tab. Generally, the Host brand will create the images, which will be saved to the Creative Assets section.
Once you've found the correct image, download it.

2. Create an email with the image
Upload the asset into your ESP and prepare an email to send to the list you've agreed to promote the sweepstakes to.
3. Grab the
correct

Tracking Link and add it to the image in your email draft.

Your email promotion needs to be linked using a Tracking Link, or else no one will be able to access the landing page and enter the giveaway! On DojoMojo, we create these for you automatically.

To find the correct Tracking Link, go to the Tracking Links section of the Links & Files tab. Once you've found the correct Tracking Link for Dedicated, copy that link.

Now, head back to your ESP and add that link to your image.
Tip: Write a compelling subject line
You'll need to write a subject line that is relatable to your audience, entices them to open the email and enter the giveaway. We suggest including adjectives like "ultimate" or "amazing." You should also highlight the prizing. For example, "Win an Ultimate Trip Week in Maui!"
4. Test and Schedule your send
As with any time you're about to email thousands of people, it's a good idea to test your send!
Send yourself a sample email and make sure that clicking on the image and CTA gets you to the sweepstakes landing page.
Many times, the Host will ask to see a sample of your Dedicated Email send - this is normal and helps ensure quality and consistency.
Promoting with other channels, like Social Media?
No problem! Just complete the above steps, using the correct Creative Asset and it's Tracking Link.
For example, if you have agreed in your Partnership Agreement to promote with a Facebook post, download the Creative Asset for Facebook, and embed the Tracking Link marked "Facebook."