Brands hosting a sweepstakes on DojoMojo can invite other brands to join their sweepstakes as a Partner. If you're invited to join one, it's an opportunity to grow your audience in exchange for simply contributing to prizing and sharing the sweepstakes with your email list and social following.
Follow the below steps to review and respond to an invitation.
1. Review the Invitation
When a Host invites you to join a sweepstakes, you'll receive an email explaining what the sweepstakes has to offer.
You can view all your invitations at a glance in your DojoMojo inbox under Received Invitations.

So should you join the sweepstakes? Read our guide to what you can expect.
Some things you'll want to consider include:
Do the brands on the campaign have an audience I'd like to reach? Will my audience find them relevant?

Is the prize something my audience could get excited about?

What kind of prizing would I need to / can I contribute?

Are these brands I've worked with before? Newer or larger brands can mean more new emails for your list.

2. Indicate Interest (or not)
If you don't want to join the campaign, click Decline. We'll send a polite note the Host letting them know it's not a fit.

Assuming you do want to participate, click Interested to let the host know you'd like to move forward. This will kick off creating a short Partnership Agreement, which will specify what you and the Host are committing to do as part of the campaign.
Not sure? Send the Host a message to clarify any questions you have before making a decision.
3. Let the Host know what you can commit to
As part of indicating interest, you're asked to provide the below info to help create a short Partnership Agreement:
How much of your audience you expect to enter the sweepstakes. (Not sure? We suggest 1% of your list size).

Optional: What dates you'd be able to promote the campaign

What you're willing to contribute for prizing (this can be finalized later)
This information will be sent to the Host and used as a basis for your discussion with them around what you'll contribute. Once you've finalized these with the Host, the Host will input your commitments into a template and generate the Partnership Agreement and send it to you.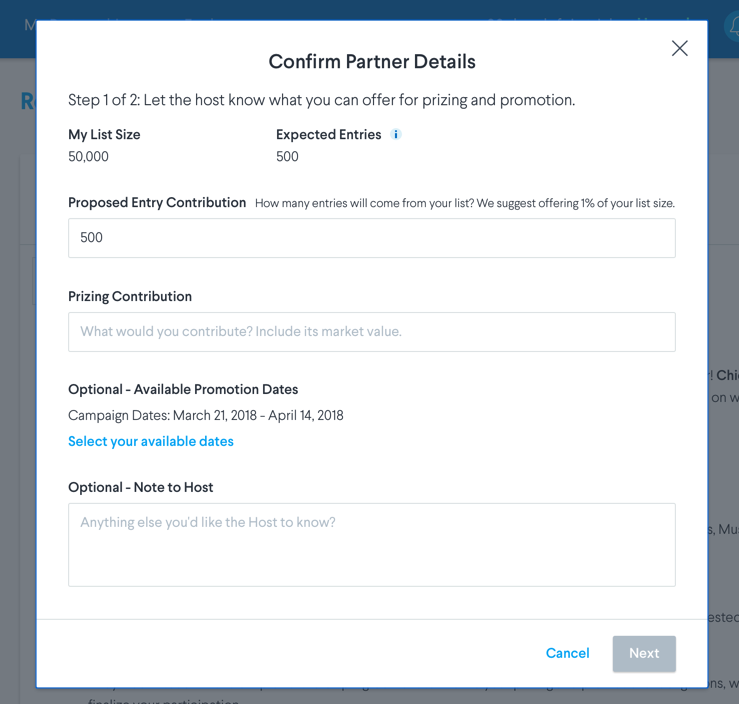 Not 100% sure about the details yet? No worries! This can all be finalized in conversations with the Host, but this will provide a jumping off point.
4. Optional: Add your Legal Details
If you really want to get a jumpstart, you can add your legal details so that you won't have to add them to the Partnership Agreement later if you're accepted.
If you haven't added this to DojoMojo yet, you'll also be asked to provide info about your company to populate the agreement:
Your company's legal name

Your company's entity type - corporation, LLC, etc

Your company's legal address
Don't have this handy? That's okay, you can add it later.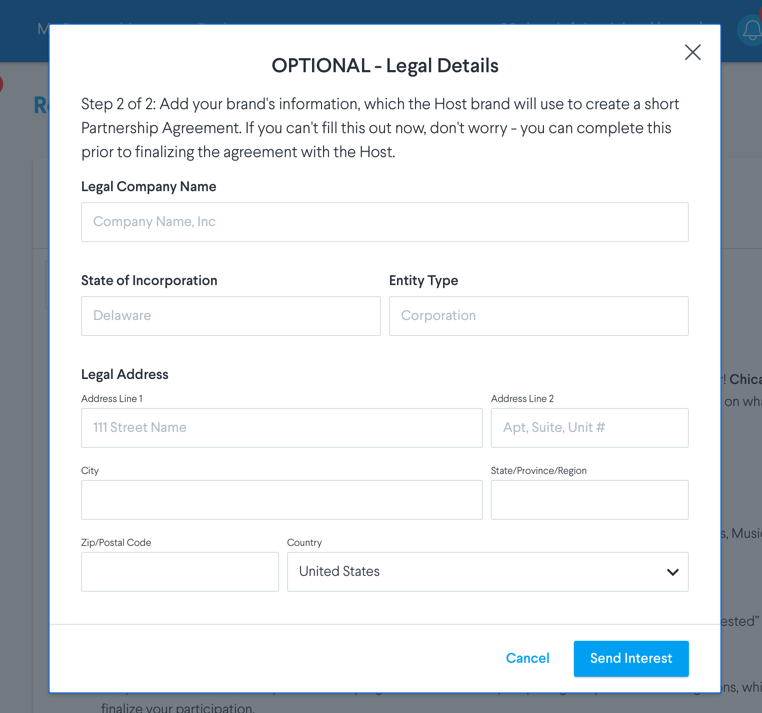 4. Submit your Interest
Click Send Interest to finalize and send to the Host.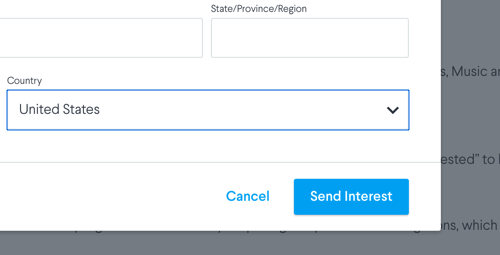 Once you've clicked Send Interest, you should receive the below success message. The sweepstakes is now considered "In Discussion" and you can find it under that section of My Partnerships.

What's next?
The Host will start working on a Partnership Agreement to finalize your promotions and prizing contributions. There will likely be some back and forth from the Host as you finalize these terms.
Once the Host has drafted the Partnership Agreement, you'll be ready to Review and Sign the Partnership Agreement.
Upon signing, you're officially in!