Our previous article discussed how SmartTarget analyzes, identifies, and scores your mobile marketing subscribers to help you narrow down your top SMS leads.
In this article, we'll cover:
Optimizing for SmartTarget
As with any predictive machine learning algorithms, SmartTarget works best and surfaces trends when it can access a volume of varied customer data. The more data you have on customers and can sync with DojoMojo's SMS Marketing Suite, the more the SmartTarget algorithm can refine how it scores and predicts which of your SMS leads will engage in future messages.
If you're just onboarding to SMS marketing, we highly recommend continuing to build your audience and gathering more customer activity before diving into SmartTarget. To prepare for SmartTarget:
Continue to build your SMS lists via Solo Sweepstakes, Partnership Sweepstakes, and your website lightbox.

Integrate your online store vendor (such as Shopify) and ESP to sync customer data with the SMS Marketing Suite

Default SmartTarget Segment
The specialized SmartTarget segments are automatically built for you. Remember that the SmartTarget algorithm works by ranking and scoring your subscribers based on their likelihood of engaging with your future SMS marketing campaigns.
In your list of segments, you will find four default SmartTarget segments:
| | |
| --- | --- |
| Segment name | Segment description |
| SmartTarget Top 10% | All contacts in your SMS audience that SmartTarget scored in the top 10th percentile |
| SmartTarget Top 25% | All contacts in your SMS audience that SmartTarget scored in the top 25th percentile |
| SmartTarget Top 50% | All contacts in your SMS audience that SmartTarget scored in the top 50th percentile |
| SmartTarget Top 75% | All contacts in your SMS audience, excluding the contacts who scored in the bottom 25th percentile |
As with any customary segment you create for SMS campaigns, you will find your SmartTarget segment along with your other audience lists–in your Segments section and in the dropdown list of segments in the SMS campaign editor.
SMS Marketing Suite: Segments Section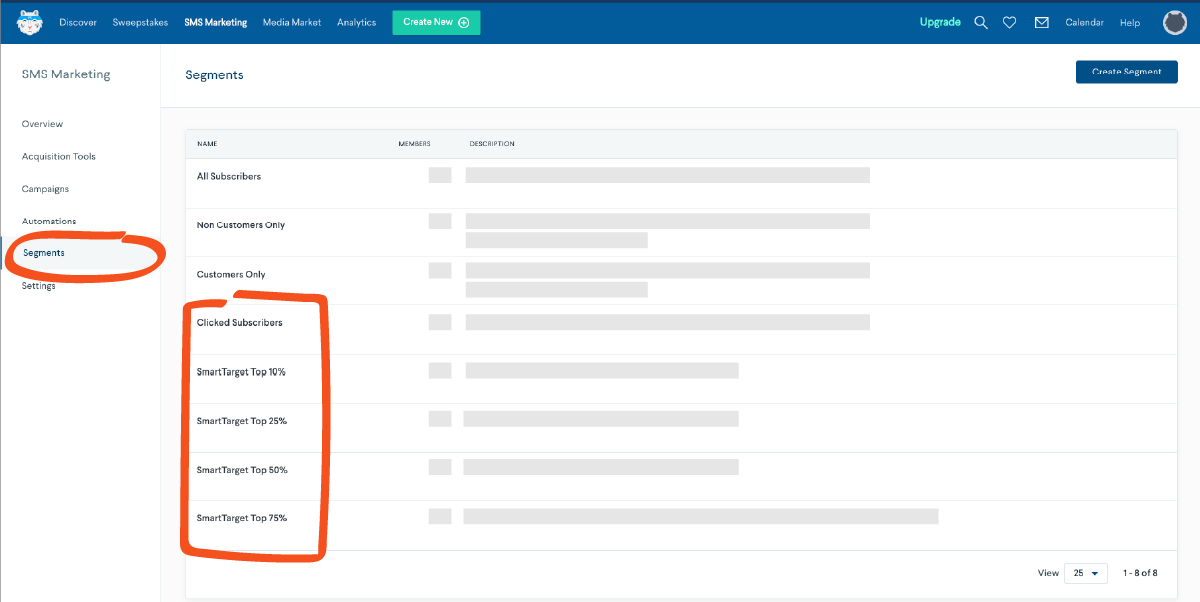 SMS Campaign Editor

Targeting Your SmartTarget Segment
SmartTarget is here to help you test new SMS marketing practices and work towards a healthy ROAS from your SMS marketing so that you can get the most out of your time and budget.
The top ways to use SmartTarget to optimize SMS campaign performance is to:
Send a campaign to one of the default SmartTarget segments, and remarket to a refined audience

Add SmartTarget as additional segmentation criteria on top of your custom-built segment, and target only the top-prospects within that specific segment
1. Remarketing to a refined audience
Targeting one of the pre-built SmartTarget segments is a great way to reach and nurture your higher-qualified audience.
When you're ready to send a campaign to a SmartTarget segment, set up and build an SMS campaign as you usually would. First, give your campaign a name. Under Segment, scroll to the bottom of the list, and you will find the pre-built SmartTarget segments.
Choose one of the SmartTarget default segments as your campaign's target recipient list. Craft your message, and send. It's that simple!

2. Add SmartTarget with your segmentation criteria
Suppose you already have a specific segment in mind for your campaign. In that case, you can also add SmartTarget as a segmentation criterion to narrow your focus on the contacts–from your custom segment– that scored in the top SmartTarget tier.
For this example, we'll target those who interacted with a previous SMS campaign and only want to target the contacts who scored in the top 20th percentile.
First, build your custom segment criteria. Add a New Condition to your custom segment. Pay close attention to your logic criteria:
Or pulls contacts who meet any one of the conditions you choose
And

pulls contacts who meet both your segment criteria
To layer SmartTarget on top of your custom recipient list, choose And as your logic criteria. From your list of segment conditions, choose SmartTarget.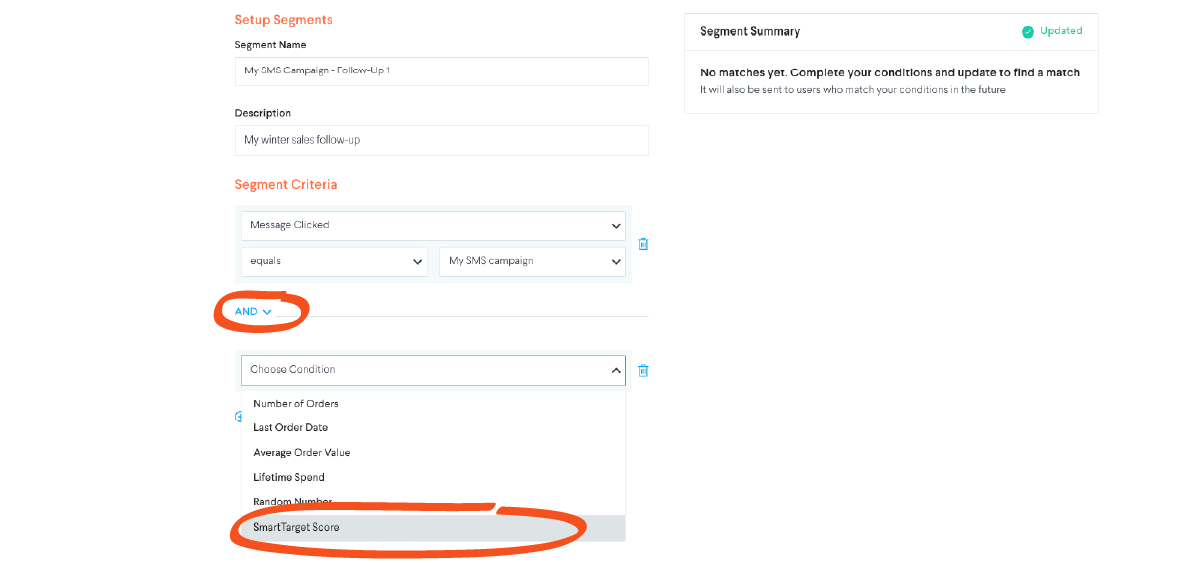 As we want to target contacts who scored in the top 20th percentile, we'll need to target contacts who earned a score higher than 80. For our custom segment, we'll set the condition to greater than 80.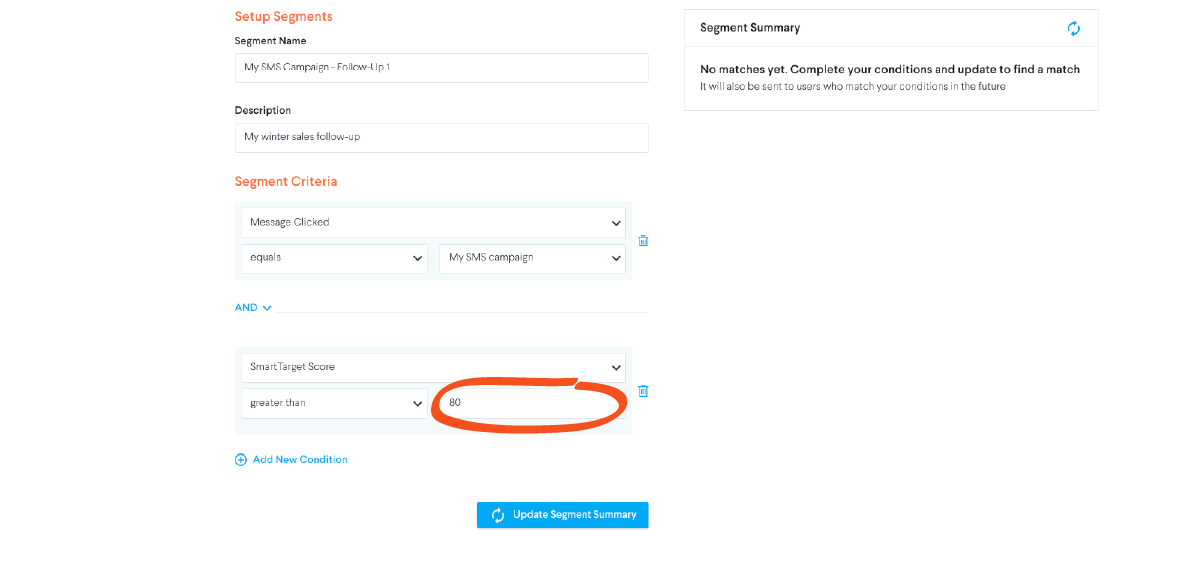 Timing and Campaign Cadence
Like any other SMS campaign or marketing text messaging practices, you'll also want to ensure that you do not overuse SmartTarget segments. If SmartTarget is used too frequently, your subscribers may begin to feel over contacted and mistake your marketing texts as spam. To create a positive customer and text messaging experience, we highly recommend using spacing out your message frequency to SmartTarget subscribers.