What is Email Filtering?
DojoMojo offers the option for brands to decide if they want to turn on or turn off email filtering. We offer this complimentary service to all DojoMojo users. The service that DojoMojo employs acts as an ESP hygiene regulator by removing emails that are considered "medium or high risk" by your Email Service Provider (ESP).
High risk emails can come in the form of spam traps, university or college emails (often flagged as they are considered 'temporary'), typos in the address (i.e. if the giveaway entrant types in an extra space after their email address before clicking "enter"), and so on.
When filtering is turned on, emails removed from what we deliver to you include:
Spam Traps and Malicious Senders - known email addresses associated with high spam complaint rates, blacklisted domain URL's, invalid emails, spam advisory domains, blacklisted emails, emails associated with litigators to entrap mailers, malicious moles and do not mail emails, among others.
Fraud Threat - phishers (emails associated with phishing scams), bots (fraudulent activity programs designed to "hack" giveaways), scammer emails associated with online scams and a variety of others.
Delivery Threats - emails simply found to be invalid, improperly configured DNS records and general other things that yield a bounce back.
Conversion Threats - emails from people who habitually report commercial email as spam or emails from deceased individuals.
You can learn more about what your specific ESP considers to be a medium or high risk email by looking into their help center or knowledge base resources.
If you are not integrating your ESP with DojoMojo, skip to the bottom of the article.
What does it mean to turn Email Filtering on or off?
If you turn Email Filtering on, then the email scrubbing service that DojoMojo employs will filter out about 5%-30% of emails that you receive from active campaigns. When you turn email filtering off, the service will discontinue.
However, this does not work retroactively. For example, on May 10 you have email filtering turned on in your preferences and you are in a campaign that goes live. If you decide to change your preferences and turn Email Filtering off on May 11, you will still see emails scrubbed from this campaign.
You must make your filtering changes before your campaign goes live.
How do I turn Email Filtering on or off?
There are two ways. Note that you can change your preferences for Email Filtering at either the campaign or brand level.
Email Filtering: Campaign Level
Go to the campaign for which you want to change Email Filter settings, then click "Manage Campaign", and go to Integrations. From here, click "Email Filters".
When Filters are turned on, it will look like this: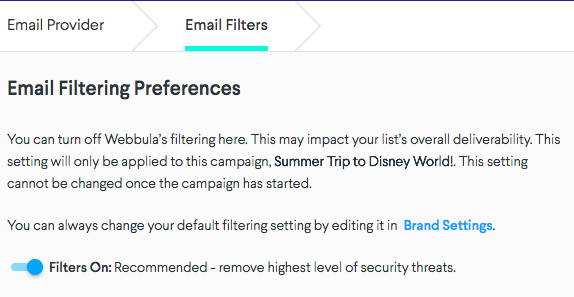 \
When Filters are turned off, it will look like this: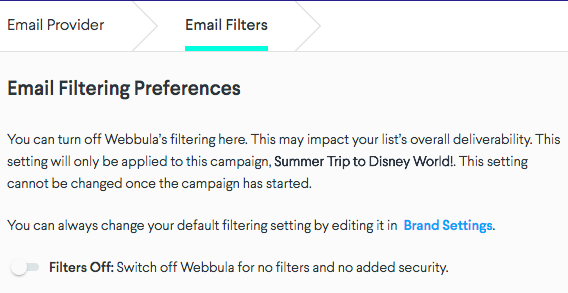 When you are changing from Filters On to Filters Off, you will get this pop up. We've put this in place to explain the risks in turning off email scrubbing (as explained above). However, you can simply click "Turn Off Filters" and then your screen should mimmic the above image.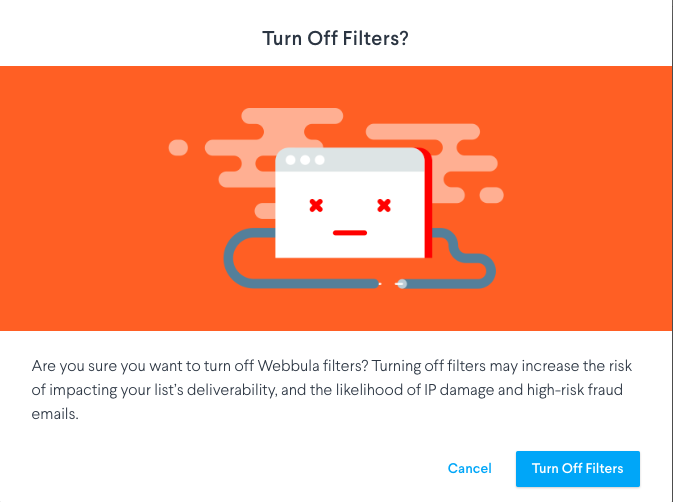 Changing your preferences of Email Filtering at the campaign level gives more flexibility than on the brand level. In other words, if you are in multiple campaigns, you can have Filtering turned on for one, and off for another.
Email Filtering: Brand Level
If you want to turn Filtering on or off for every campaign your brand is involved in, you can do so by going to your Brand Preferences. First click your brand's icon in the top righthand corner of your screen. From here, select Manage Brand, then choose Email Filters. As explained above, you can toggle Filtering on or off. If you toggle Filtering on, the scrubbing service will be active and remove about 5%-30% of emails that you are receiving from the giveaways in which you are participating. If you turn Filtering off, the service will not take out any emails from what you are receiving via giveaways.

If you are not integrating your ESP with DojoMojo, then you are manually downloading .CSV files and uploading them into your ESP. Included in the .CSV file that DojoMojo provides you is the "hygiene level" of each email address. We differentiate between low, medium, and high risk. You are able to decide if you want to upload these emails or not.
To understand how filtering will affect your analytics, please see our article on Understanding Campaign Analytics for a comprehensive explanation.
Happy Filtering!