When you're introducing mobile marketing to your business, one of the steps to get your business to be compliant with SMS marketing practices is to update your terms of service, or known as terms and condition policy, to cover your new channel. Your terms and conditions are the living documents that form the foundation of relationships with consumers. They build transparency, trust, and fairness with those who engage with your business but also cover and determine the rights for all parties to the contract, meaning you, customers, and prospects.
In introducing new marketing operations, especially one that handles an individual's personal data, you need to disclose to consumers how you will use their personal information, including how you plan to use their data for mobile marketing purposes.
To make your SMS setup as hassle-free and easy as possible, we put together a template that includes the required compliance language to cover SMS marketing efforts.
We highly encourage you to consult your own legal counsel on the steps needed to adhere and comply with text messaging laws before updating and posting your consumer agreements.
Before you begin collecting and texting new SMS marketing subscribers from your website, follow our TCPA Compliance Setup Module, and update your terms and conditions policy on your company website.
Accessing the Terms of Service Template
As a new account SMS Marketing on DojoMojo, you can access the TCPA Compliance Setup Module from your SMS Settings. You will also be able to access the module via the setup steps on your SMS Dashboard.
From Settings
In the SMS Marketing Suite, head over to your (SMS) settings, where you'll see the TCPA Compliance section and the option to open the setup module. Hit Update Your Terms to start.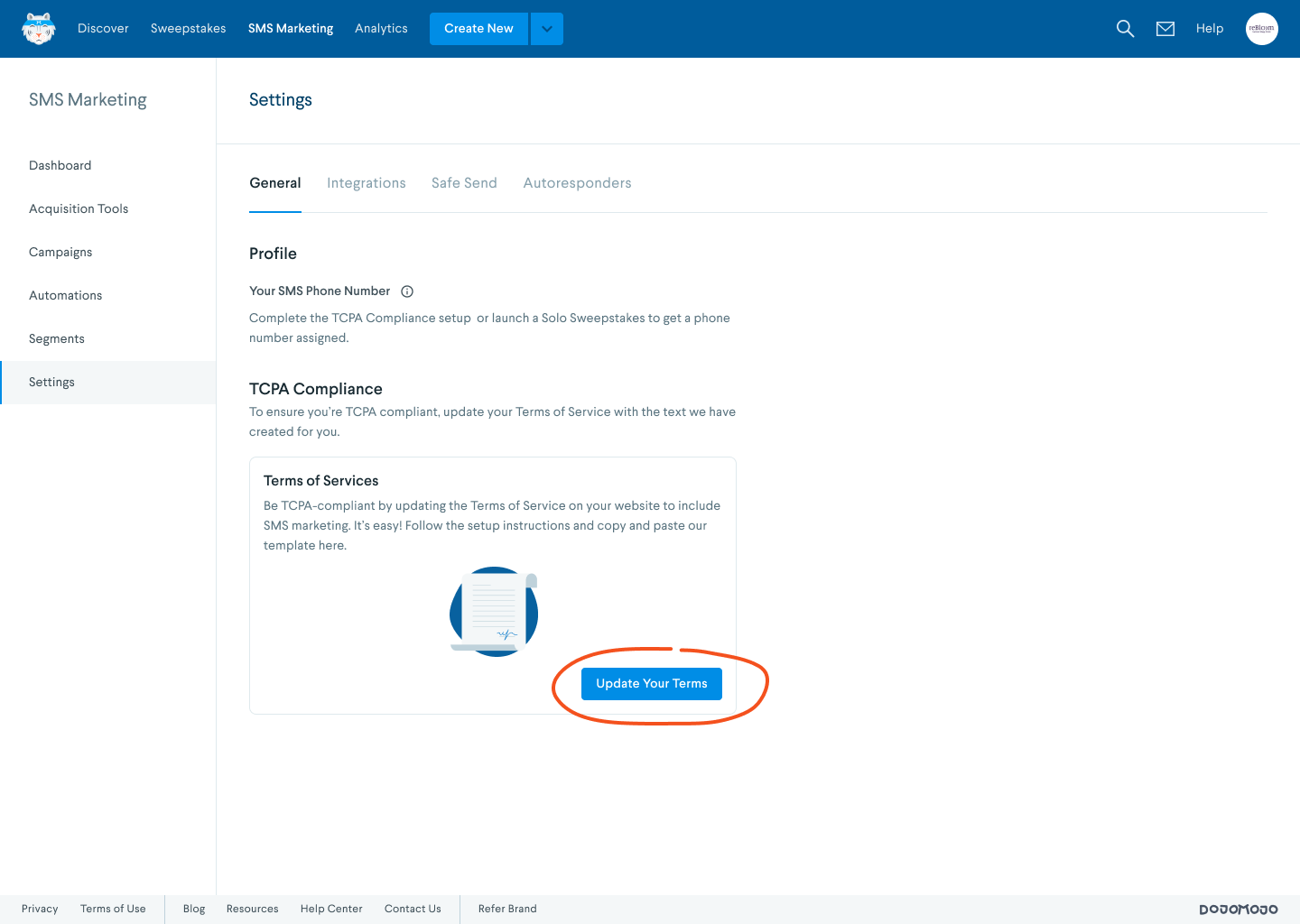 Follow the steps in the module and fill out your business, support, and contact information. Continue with each step until you find the template Terms and Condition text. Select Copy Terms to save the text to your clipboard.
Updating Your Terms and Conditions Policy on Your Website
Your terms of service or terms and condition policy is likely a webpage that is linked from the footer of a website, alongside your privacy policy.
Site Administrators
If you are the administrator or editor for your website, locate the page and area that hosts your terms and conditions information. Paste the copied text as an additional section into your terms of service policy.
Shopify Stores
If your website–or store– is built in Shopify, go to your Shopify Store Settings and Legal, and find the Terms of Service section. Paste the copied text as an additional section into your terms of service policy text.