The Shopify integration provides you with real-time performance reporting and unlocks the full functionality of DojoMojo's SMS marketing suite. With a Shopify integration, you can activate advanced text messaging features including automations based on customer behavior (e.g. Cart Recovery), AI-enabled segmentation, automated drips, and revenue reporting.
Additionally, DojoMojo will be be able to score potential brand partners based on the probability for transactions, which will allow us to give you advanced analytics and insight into which specific partnerships drive the most value for your brand.
With a Shopify integration, you can:
Unlock advanced SMS tools and analytics

Centralize your data and track conversion data easily across your sweepstakes and SMS marketing activity straight from DojoMojo

Have data-driven insights to choose and collaborate with the right brands
This article will cover:
Find your Shopify ID
First, log in to your Shopify account. In the left menu, find your Online Store settings. Go to Domains. There you will see your domain name. For this example, the domain name is AmazingStore.myshopify.com.
"AmazingStore" is your Shopify ID.

Copy your Shopify ID and keep it handy! You'll need this when you set up your integration in DojoMojo.
Link Your Shopify Store with DojoMojo
1) Head to your DojoMojo account and click your logo in the upper right corner of the screen. Go to your Account Settings.

2) On the left rail, choose Data Integrations. Then, select the Shopify block.

3) In the window pop-up, enter your Shopify ID. Click Integrate.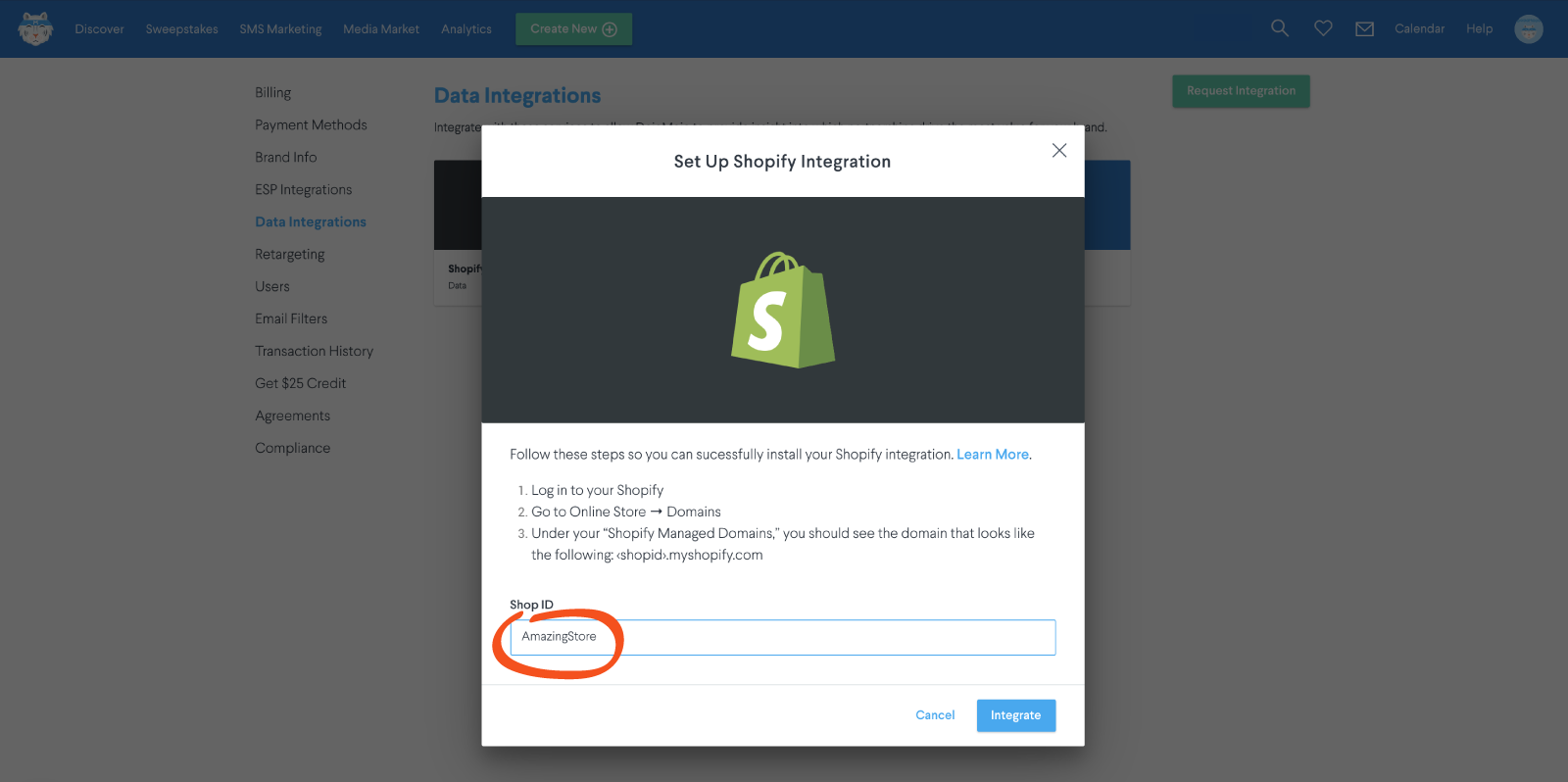 4) When you return to the Data Integrations screen, you'll see a green checkmark in the corner of the Shopify block. This means the integration was successful and is active.

FAQs
How does the Shopify integration help with my SMS marketing and
partnership sweepstakes
activity?
For SMS marketing
Get real-time analytics and insight into the performance of your SMS channel.
Track revenue driven and number of purchases generated. For more, check out Conversion Tracking and Revenue Attribution.
Target your highest-intent customers with AI-enabled segmentation. Lean more about SmartTarget.
Send targeted SMS Automations based on customer behavior (e.g. Cart Recovery).
For partnership sweepstakes
With a store integration, DojoMojo can help identify which brand partners in the network have the highest concentration of subscribers that are likely to engage and purchase from your business. Over time, DojoMojo can recommend high-performing partnerships that are best suited for your brand.
Will the integration hurt my site's performance or load time?
Not at all! DojoMojo's integration with Shopify has no impact on your website's performance.