In this article, we'll discuss the fundamentals of Solo Sweepstakes, as well as walk through the tactical steps of getting a giveaway up and running.
We'll cover:
What are Solo Sweepstakes?
A giveaway facilitated by a business without the inclusion of partner brands.
Why use Solo Sweepstakes?
Running a giveaway is one of the fastest and most cost-efficient ways to grow your subscriber list. Delight your audience with a special treat while simultaneously obtaining new insights, driving purchases, and gaining highly-valuable text message subscribers.
1. Build a highly engaged marketing list
Nowadays, it's not merely a matter of acquiring new customers but also finding inventive ways to engage with them. Giveaways can help you liven up your email and social content, give back to your audience, and involve followers in a digital brand experience.
Deepen your understating of your current audience, gain new information from your subscribers, re-engage inactive customers, drive purchases, and delight consumers with giveaways that showcase your brand's products or services. Solo Sweepstakes are excellent for generating exposure and driving new purchases from existing customers.
2. Seamlessly capture first-party data
Use giveaways to expand your list. Collect new information and opt-in options directly from your subscribers. With the ever-changing landscapes of social media platforms, traditional paid ads, and privacy regulations, collecting first-party data through giveaways is a reliable, effective, and economical growth strategy.
3. Catalyze your SMS marketing program
Whether you're just getting started or you're already a text messaging pro, Solo Sweepstakes make it easy to find and nurture your best customers faster. Giveaways are one of the most effective, engaging, and cost-efficient ways of growing an SMS list off-site.
Why use Solo Sweepstakes to build an SMS list?
Consumers that give you access to their most personal communication channel (SMS) are likely your most engaged subscribers. However, growing your list and getting an SMS strategy off the ground can be challenging. Solo Sweepstakes make it easy to find and nurture your best customers faster and more efficiently.
1. Stay compliant
When it comes to text message marketing, compliance is hugely important. Unlike other marketing channels, to stay compliant you must get explicit permission to send people text messages, set expectations around the frequency of messages, and provide clear unsubscribe guidelines. The fact is, sending the wrong message to the wrong person can mean legal trouble for your business. But don't let this alarm you, doing it the right way is easy with DojoMojo. We take the guesswork out of compliance and automate the legal process for you. We go above and beyond to ensure you're fully covered.
What is TCPA?
TCPA (Telephone Consumer Protection Act) is a federal statute designed to safeguard consumer privacy. This legislation regulates telemarketing communications via voice calls and SMS texts. To prevent any legal issues, it's paramount that you stay compliant with this protection act and ensure your SMS marketing technology fully adheres to the regulations. Don't sweat it, we've got you covered!
2. Level up your engagement
Cut through the noise by complementing your email program with text messaging. With 98% open rates, you can be sure your messages are being seen.
3. Efficiently grow your subscriber list
Solo Sweepstakes is the quickest way to accelerate your SMS list growth. Consumers can now enter your giveaways and sign up for your SMS program in one fell swoop. You can further encourage entrants to opt-in to SMS by teasing a special offer (e.g. discount, free gift, BOGO, VIP access) directly on the giveaway landing page.
4. Turn subscribers into purchasers
SMS is one of the most powerful marketing channels for reaching new customers and growing your revenue. It will likely outperform all other direct-response marketing efforts you implement. It's also a fantastic way to build loyalty and lifetime value for your repeat buyers. With Solo Sweepstakes, easily develop a strong, reliable, and revenue-driving customer touchpoint through SMS.
In case you're still unsure if text message marketing is right for your business, here are a few reasons to consider adopting SMS:
Consumers who receive text message marketing in addition to your other channels are 40% more likely to convert to paying customers
SMS campaigns have unparalleled open rates (upwards of 99%) and get opened quickly (90% within 3 minutes)
Privacy laws filter out spam and ensure SMS will remain a powerful channel
Unlike email, FB Messenger and other communication apps, almost everybody with a cell phone has notifications turned on for text messages
How to set up SMS acquisition on your giveaways
1. Activate SMS Marketing on the Solo Sweepstakes Builder
Start building your giveaway here.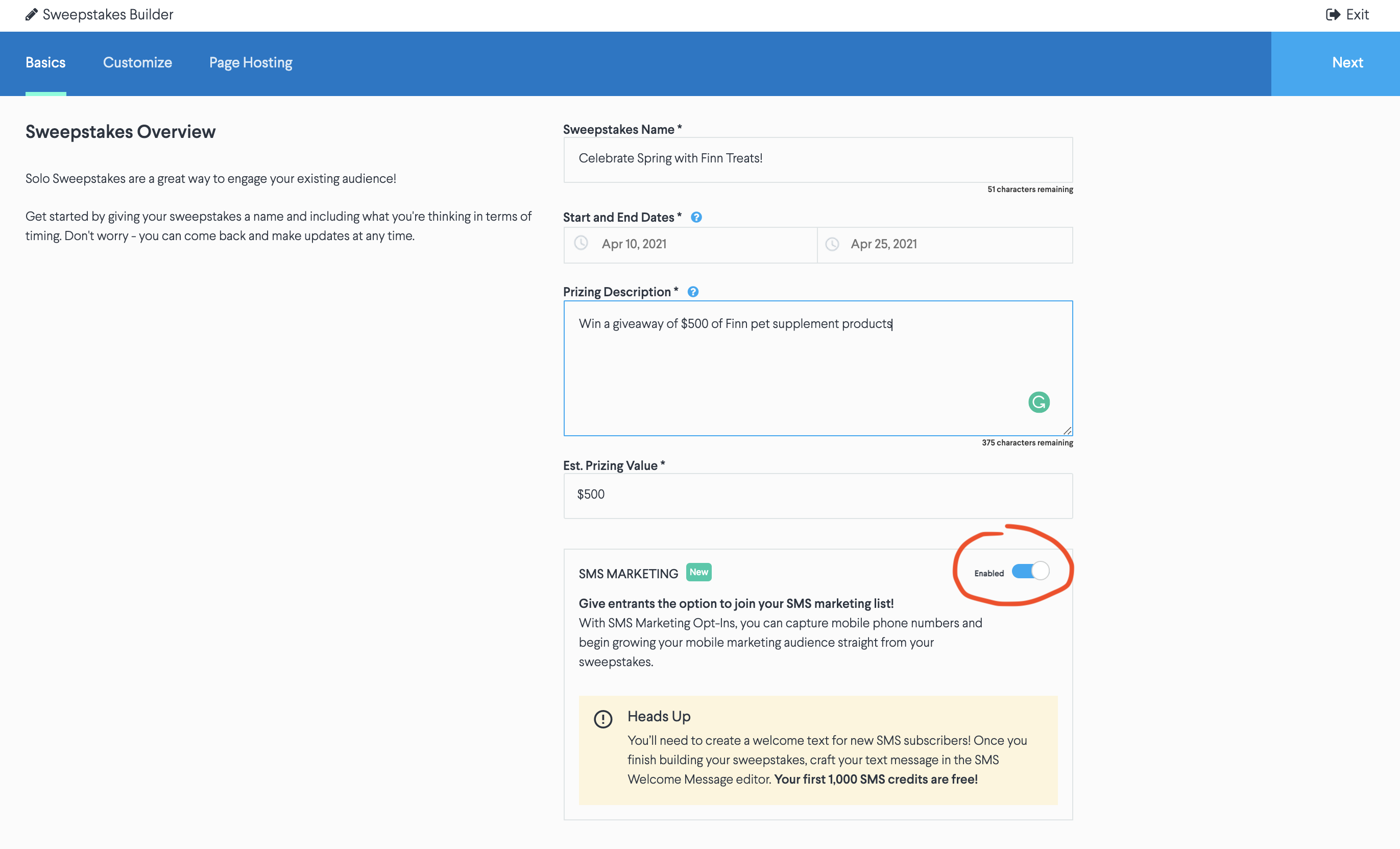 2. Edit your SMS offer on the sweepstakes landing page
Your giveaway entrants will see the opt-in checkbox directly on the sweepstakes landing page.
Pro tip: Entice entrants to sign up for SMS with a special offer. Offers can be categorized into two buckets: Promotional (discount, free gift, BOGO) and Non-Promotional (free shipping, product launch, exclusive content). Some phrases to consider including: Unlock, Enjoy, Exclusive Access, Special Offer, and Get % off.
3. Craft your SMS Welcome Message(s)
When customers join your SMS list, you'll be ready to welcome them immediately. Don't worry, they're expecting a note from you.
Keep it short and sweet. Less is more when it comes to texts. If you offered a discount, be sure to include the active code in your message (Pro tip: Add an expiration to create some urgency!). Make it a drip campaign. Set up automated follow-ups to encourage purchases, lead them to explore specific products, and showcase your content.
Remember to Publish your welcome text message(s) or the giveaway won't be able to launch.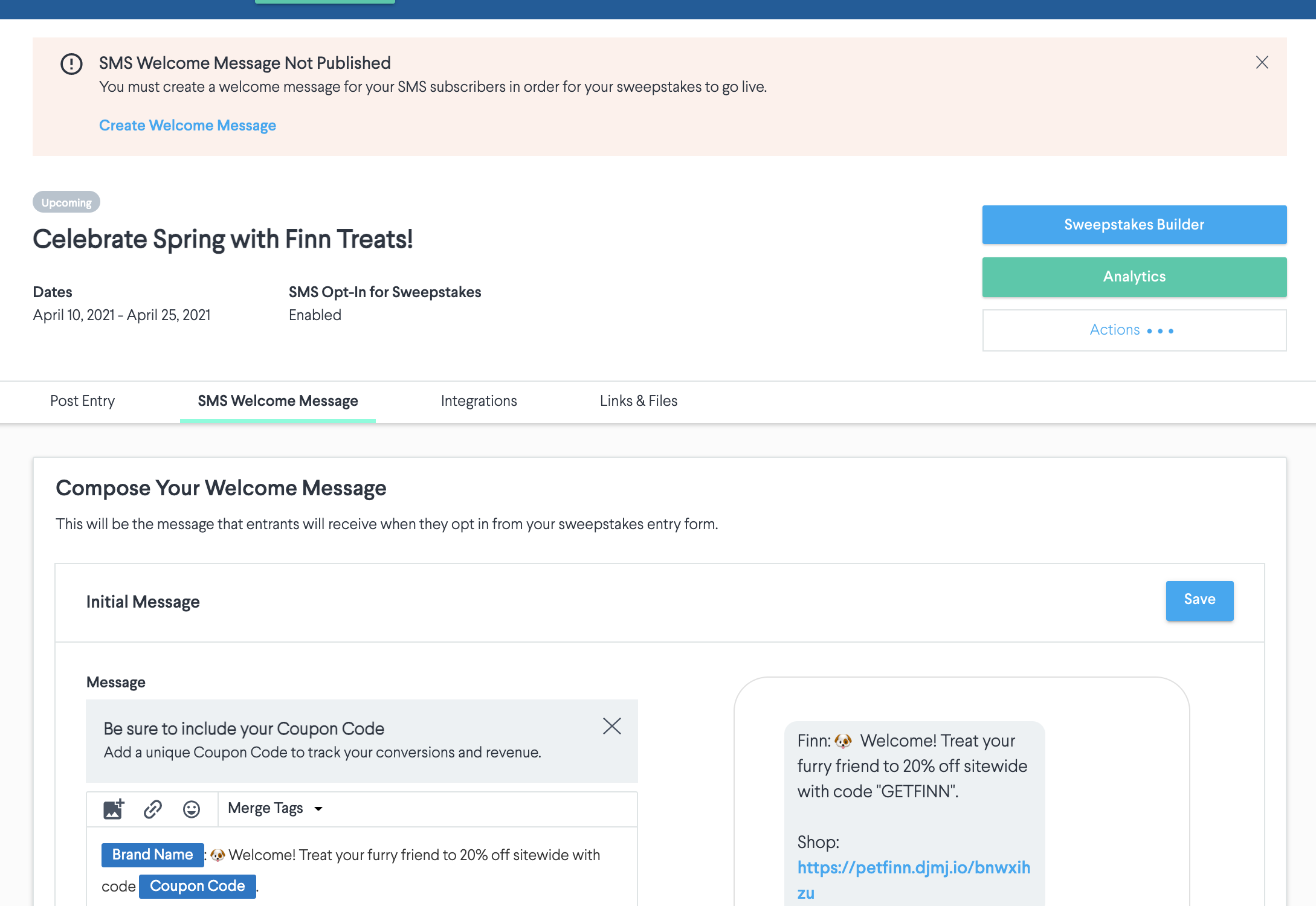 Customize the Post Entry page and add Social Growth
Thank consumers for entering your giveaway and encourage them to further engage with your brand. A Thank You is a great touch and you can personalize the message to match your brand voice. A Custom CTA (available on Premium and Pro plans) can help direct traffic to your website. Social Growth is a powerful tool to drive engagement with your social media channels.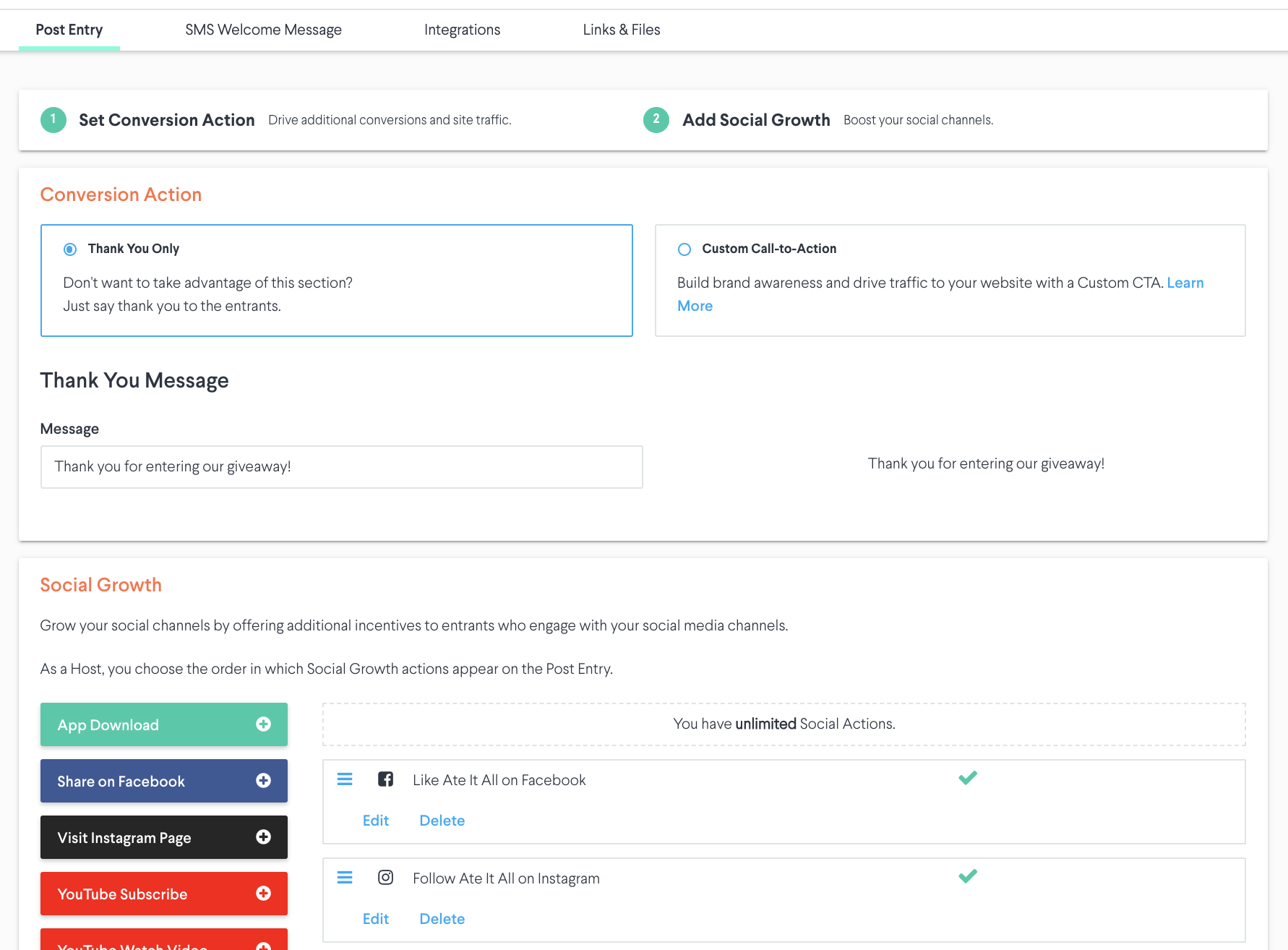 Confirm integrations
Automatically migrate data collected from the giveaway to your Email Service Provider. Connect your online store to track purchases generated by the campaign, as well as seamlessly enroll new SMS subscribers into your text message Automations (cart recovery, thank you messages, etc.), which trigger automated messages based on customer purchase behavior.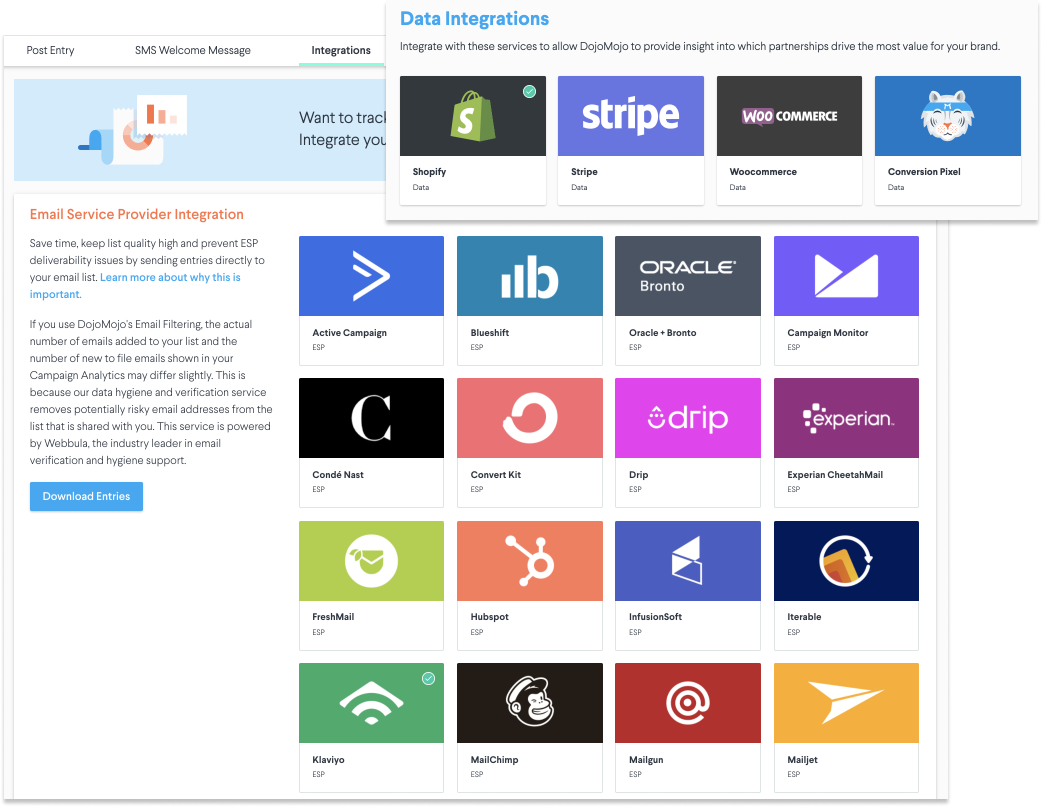 Locate your Tracking Links, Launch, and Promote!
Tracking Links are key to measuring your campaign's performance. Use these when sharing the giveaway with your audience. Spread the word and promote your campaign on any marketing channel or native content (e.g. email newsletter, IG Story, Facebook post, website banner).
Your giveaway will launch automatically on the specified date. You can also manually launch at any time under the Actions dropdown.

What do we do next?
Immediately following (or preferably during) a giveaway, we recommend:
Solo Sweepstakes isn't a one-and-done strategy. Continuously engage, grow, and convert your subscribers by running thoughtful giveaways repeatedly. Segment your list and design custom giveaways for specific audience cohorts. Consider an evergreen giveaway (that spans several months) that lives in your email welcome series or an Instagram Highlight.
Tens of thousands of giveaways have been run through DojoMojo, and if you're looking for inspiration or would like additional guidance, contact our team - we're happy to support!