What are Social Actions?
Social Actions offer bonus entries to entrants in exchange for interacting with your social media. This can result in more followers, shares and increased social awareness.
These appear to entrants after they have entered the sweepstakes, and look like this: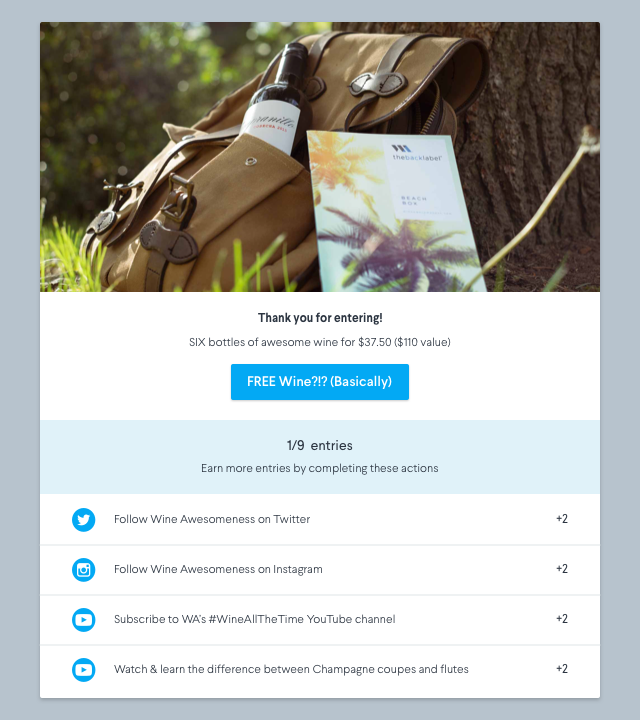 The photo and ad shown are the Custom CTA, available to Premium users.
Who can use Social Actions?
Hosts can offer Social Sharing to other Essential or Premium user partners or use them solely for their own brand.
The Host brand always has full control over which Social Actions options appear in the list and the order in which they appear.
Premium users can add unlimited actions with Host approval
Essential users can add up to 3 actions with Host approval
Basic users cannot use Social Actions
How to Add Social Actions to your Sweepstakes
1. Open the Social Growth panel
Click on your campaign card and head to the Boost Reach tab. You'll see a number of social actions you can take to incentivize users.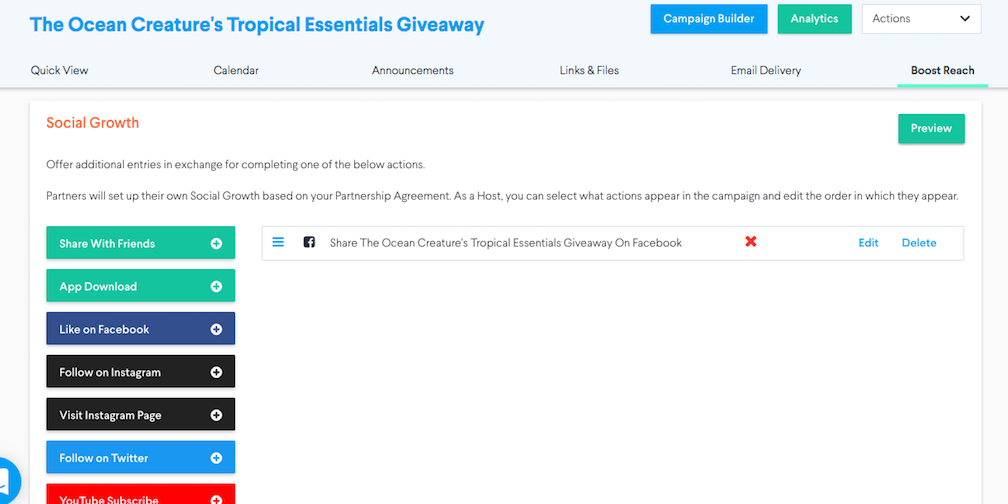 3. Select and complete the Social Action you'd like to add
Click on an action to add it to the list.
Fill out the requested information, including your social media handle and the number of entries you want to award for this action. No "@" sign is required.

Click Save. You'll now see the action in a list.
4. Reorder, Edit or Delete a Social Action
As Host, you'll see a complete list of Social Actions for all Partners on the sweepstakes. You can drag and drop to reorder them as you like.
To edit or Delete a Social Action, just click the corresponding button.
Why don't some Social Actions let me add a number of entries?
For legal reasons, some social media companies like Facebook and Instagram do not permit offering social actions for sharing a post.
Facebook and Instagram Social Actions continue to be popular with our users and entrants, despite not offering extra entries in exchange for follows or sharing.