The DojoMojo network is home to 11,000+ brands who you can connect with directly to form collaborations and co-marketing opportunities.
There are three main ways to connect with brands:
Search Brands - Other brands looking for marketing partnerships - you can reach out and send them a message about your specific ideas, or just to connect generally.
Join Sweepstakes - Find giveaways looking for partners and apply to join. Learn more about finding sweepstakes to join.
Host Sweepstakes - Build multi-brand giveaways.
Opportunities - Explore other types of partnerships that take place outside of the platform, like content swaps, media buys, box inserts, and more.
Search Brands

To navigate here, click the magnify glass icon 🔍 on the top navigation bar then select Brands.
From here, you can find specific brands, learn more about them through their Profile, and direct message them through the platform. If you already know which brand you'd like to connect with, use the search bar at the top of the page to search for them by name or category.
Tip: Use the heart icon ❤️ in the top right corner of the brand's tile to "like" them. This will save them to your Favorites so you can always come back and contact them later.
Join Sweepstakes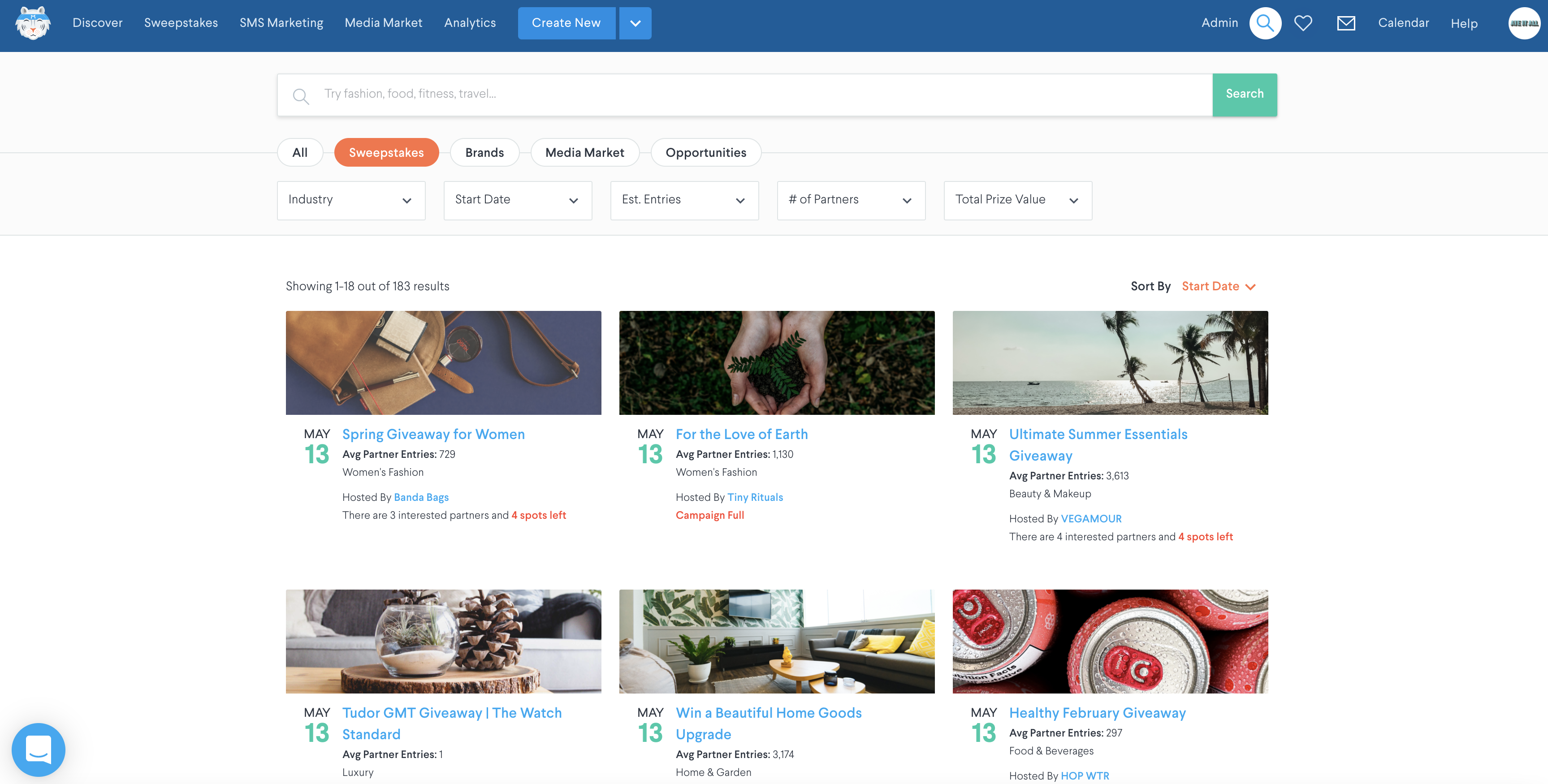 To navigate here, click the magnify glass icon 🔍 on the top navigation bar then select Sweepstakes.
Search through hundreds of open giveaways brands are putting together and apply to join as a partner. The brand hosting the campaign will be looking for 4-7 partners to join them in providing prizing and promoting the giveaway. To find sweepstakes that are right for you, we recommend using the industry filters or search for keywords to target campaigns that are compatible with your brand. Look for campaigns that will be "live" during a time in which your content calendar allows you to promote.
You'll want to work with partner brands that have a similar email list size or average entries (this is the number of entries a brand can deliver to a giveaway on average). Be sure to find brands that complement your target demographic rather than overlap or conflict with it.
For example, a female skin care company would work well with a female fashion brand, but could likely overlap with a female-oriented makeup company as the latter would likely sell skin care products, competing for the same customer.
Once you find a giveaway you'd to join, select the green "Apply to Join" button. You'll fill out a short application explaining to the host why you'd be a good fit. Learn more about Partnership Agreements here.
Host Sweepstakes
To navigate here, click the Create New dropdown on the top navigation bar then select Partnership Sweepstakes.
Partnership sweepstakes are one of the best and most cost-efficient ways of scaling your email, SMS, and social media audiences simultaneously.
Curate your own custom giveaway. DojoMojo's code-free builder makes it easy to design beautiful giveaway landing pages and invite partner brands to join your campaign. Extend invitations to any brand on the platform. If your desired partner doesn't yet have a profile, use your referral link.
Learn more about hosting a giveaway.
Search Opportunities

To navigate here, click the magnify glass icon 🔍 on the top navigation bar then select Opportunities.
Here you will find individual partnership marketing opportunities posted by brands. When you find an opportunity you're interested in, select the tile and message the brand directly through the platform.
Tip: You can search for specific brands in Brands Search (see above) and find what opportunities they have posted on their Brand Profile.
Learn more about opportunities here.