Report an Issue with a

Partner

If you have experienced significant issues with a partner on your giveaway, DojoMojo allows you to report the brand to our internal team. Often, we can help resolve the issue before a Partner needs to be removed from a sweepstakes.
1. Open the Campaign Builder
Under My Partnerships, open the sweepstakes you're working on. Click Campaign Builder and open the Partners tab.
2. Report the issue to DojoMojo
In the Partners list, navigate to the Partner you're having an issue with. Under Actions, click Report.
We'll ask you to select details and an issue type:
Partner didn't promote
Partner didn't send prizing
Partner not responsive to communication
Other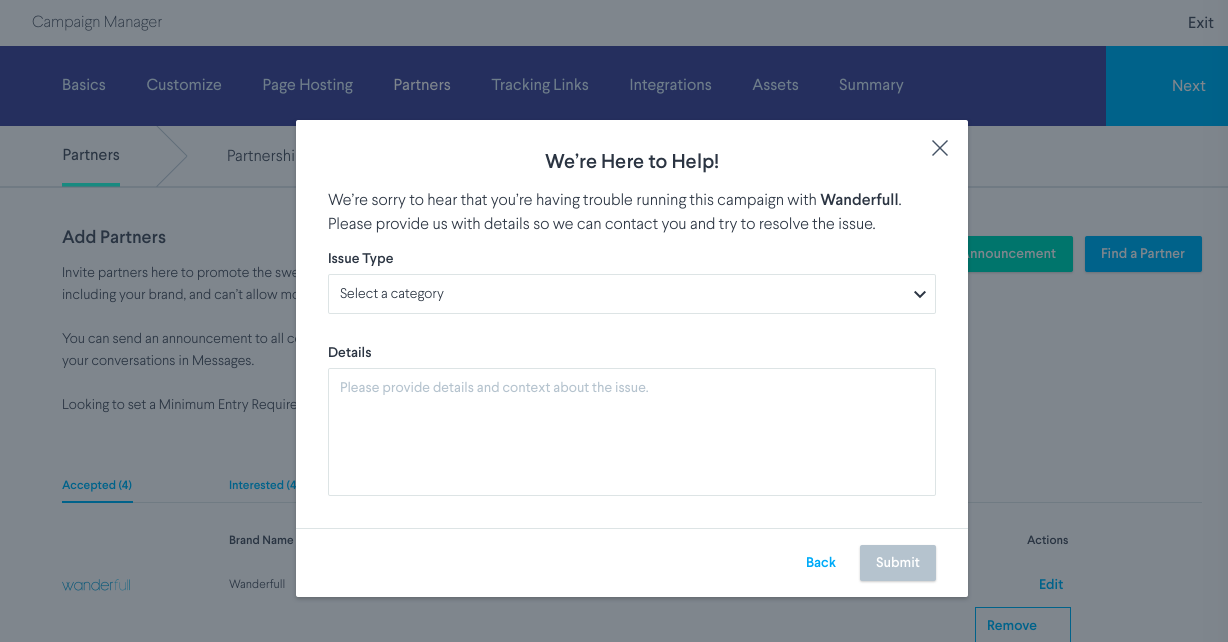 3. We'll be in touch
We will contact you after we have received your report with next steps toward solving the issue.
Remove a Partner
As the host of the giveaway, you have the ability to edit or remove partners before the sweepstakes begin.
1. Click Manage Campaign on the campaign in My Partnerships. From here, you are in the Campaign Builder.
2. Open the Partners tab.
3. Under the Actions column, click Remove.
Make sure to alert the partner why they are being removed.
If your giveaway has gone live and you still need to remove the partner, you will need to set the giveaway's live date for the future, remove the partner, then re-set as live.
You are only able to do this if your giveaway has gone live that day. It is not advised to remove a partner once your giveaway has already gone live. To change the live date, open the Campaign Builder then Basics and set back the live date.